Every Brazilian I met told me the same thing: visiting Fernando de Noronha beaches once in a lifetime is anyone's dream. 
I heard this countless times while traveling through Brazil and long before reaching this remote island I was curious and wondering why it appeared to be such a coveted destination.
Fernando de Noronha, Praia Cacimba do Padre
Remoteness certainly accounts for the fascination but there's much more to Fernando de Noronha's charm.
Where is Fernando de Noronha?
Discovered in 1503 by a Portuguese expedition including the Italian explorer, navigator, and cartographer Amerigo Vespucci, the archipelago is about 340 km (211 miles) from the Brazilian coast. Because of its isolation, the Portuguese did not care much about the island until 1737 when their presence became more apparent and permanent.
Fernando de Noronha, Baia do Sancho
Nevertheless, the distance from the coast and the difficult access to the archipelago allowed it to remain mostly untamed, preserving a very interesting ecosystem that owed Fernando de Noronha the inscription as a UNESCO World Heritage Site in 2001.
Why visit Fernando de Noronha?

Forget the Maldives' luxury resorts  (certainly beautiful albeit often – at least in my opinion – somehow 'artificial'). Fernando de Noronh is not your usual luxury beach destination. What makes Fernando de Noronha unique is being so off-the-beaten path and only allowing a limited number of tourists.
Fernando de Noronha, Baia do Sueste
Since water, fuel, and electricity are scarce and real estate development has been tightly controlled, most accommodations on the island are simple pousadas (or local guesthouses). There are only a few more upscale hotels but certainly not comparable to what you would usually find in a luxury hotel chain or resort.
For the same reasons, as well as because of its remoteness and the strict limitation in the number of visitors allowed, Fernando de Noronha is an expensive destination.
Fernando de Noronha, Mar de Fora
That's also what makes this island so special. Nature, breathtaking beaches, a laid-back atmosphere, and total chill-out.
The pousada where I was staying – like, I think, most of them – was simple but clean and I had what I consider one of the best possible treats: my personal hammock hanging in the porch. When I was not exploring one of the many Fernando de Noronha breathtaking beaches, I spent hours reading a good book or just taking a nap, lulled by the rhythmic rocking and the sound of the wind.
Fernando de Noronha, Turquoise Baia dos Porcos
I experienced a similar concept of luxury – not based on expensive things or service, but on exclusivity and remoteness – the following year in Los Roques, the awesome Venezuelan archipelago with its turquoise, crystal-clear waters. And I knew, once for all, that secluded places, with limited people, are what I call the ultimate luxury.
The heavenly beaches of Fernando de Noronha
With their perfect sand the color of gold, the shades of water from turquoise to deep blue, and the steep cliffs, all Fernando de Noronha beaches are heavenly in their own way.
One of the many beautiful beaches in Fernando de Noronha
There are a few top beaches in Fernando de Noronha you shouldn't miss, though. The wide Baia do Sueste is the easiest to reach, and therefore "more crowded" if some twenty or thirty people can be called a crowd. Praia da Cacimba do Padre is a long stretch of sand made unique by the Two Brothers, black rock formations rising from the turquoise water. Boldrò beach is not only beautiful, but also one of the best spots to watch the sunset. My favorite was Praia do Sancho, a wide bay surrounded by steep cliffs, and another stunning viewpoint at sunset. You need to scramble a bit between the rocks and to consider the tide to reach Baia dos Porcos, but you'll be rewarded by one of the most breathtaking views.
Noronha… Sunset galore!
I still have to meet a person who doesn't like sunsets, and Fernando de Noronha treated me almost every night with beautiful views at dusk.
Fernando de Noronha, Baia do Sancho at Sunset
The colors were not as bright as I experienced in Indonesia; rather the landscape transformed in a palette of smooth and delicate shades of orange, pink and purple. Less intense, perhaps, but dreamy.
One of my favorite spots was the esplanade overlooking the breathtaking Baia do Sancho. It's one of the best beaches in Fernando de Noronha, only accessible by steps carved in the stones and a steep ladder fixed on the cliff, or by boat.
Thinking of Fernando de Noronha, and feeling blessed
Every time I think back at my time on this amazing island, I feel blessed and grateful. At that time I still had a corporate job and could afford – albeit with an effort – to discover such a breathtaking place.
Fernando de Noronha, Ilha do Frade
Fernando de Noronha, with its beautiful nature and breathtaking beaches, is not for everyone. It's remote, wild, unbelievably beautiful, and expensive. But if you ever get the chance to treat yourself with a special trip, this is not your usual beach resort.
_______
Planning a trip to Fernando de Noronha
How to get to Fernando de Noronha
Azul Airlines operates flights from Natal and Recife to Fernando de Noronha. Check on Expedia for the best airfares.
Tip: In case of bad weather, flights to and from Noronha airport might be canceled. Allow at least one spare day, especially if you have an international/intercontinental flight back in economy class.
An alternative is to buy a vacation package to Fernando de Noronha, including flights and accommodation.
---
Getting around
The roads are very limited and the best way to explore the island is by hiring a buggy (and you'll have a lot of fun!). There are also public minibusses but they only drive along the main paved road.
When to visit Fernando de Noronha
The best time to travel to Fernando de Noronha is during the dry season, from July to January. If possible, avoid the rainy season, from February to June.
---
Safety in Fernando de Noronha
There are no particular safety issues on the island. However, beware that the local hospital only treats emergencies.  For any other more serious illnesses you'll get transferred to Recife by plane. Good travel insurance is, therefore, a must. And if you travel to other places in Brazil I strongly recommend to protect yourself from any inconveniences that might happen. I've been using World Nomads for years, generally choosing the most comprehensive coverage.
---
Where to stay in Fernando de Noronha
Due to the control of real estate speculation and the limited amount of commodities, you won't find luxury hotels like in other destinations. The Pousadas are simple but clean guesthouses and provide basic comforts. There are also a few upscale accommodation options, but they are pricey.
Casa Guedes Noronha features simple rooms and a common kitchen area. Close to the bus stop and small supermarkets, it's one of the most affordable pousadas in Fernando de Noronha.
Casa Noronha Fitness is another simple pousada close to Conceiçao Beach and Vila do Remédio center. It also features a car rental service which can be very handy.
Pousada Água Viva is also located in Vila dos Remedios. It features free wifi, Tv with satellite channels and rooms with a patio.
The beautiful Pousada Solar Dos Ventos is only a few steps from Sueste Bay. It features 8 large tastefully decorated chalets with a balcony and is perfect for a romantic holiday.
Check more accommodations in Fernando de Noronha
---
Essential items for your trip to Fernando de Noronha
Bring with you enough Brazilian Reals since there's no bank changing money on the island. You might be able to change US Dollars and Euro at some shops but at a worse exchange rate. Some restaurants accept Visa credit cards, but you'll still need cash with you.
Don't forget insect repellent, high protection sunscreen,  first aid kit, basic medicines, and a plug adapter.
---
Tours in Fernando de Noronha
Small groups 4×4 tours, half-day on a catamaran, sunset cruise and more. Check out the tours.
---
Fernando de Noronha on the Map: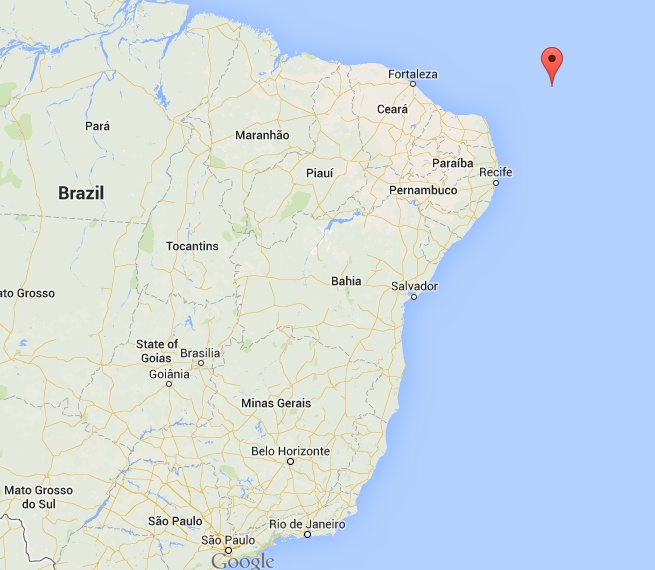 Start dreaming of Fernando de Noronha with this beautiful photography book
Pin for later!