A charming seaside resort south of London, Brighton is an easy day trip from London. Aside from strolling along the beach, sunbathing, relaxing, and visiting the quaint shops in the Laines, don't miss the colorful Brighton graffiti.
The hipster city of Brighton showcases so many beautiful graffiti that street art lovers won't be disappointed.
You can find murals as well as the decorated old phone junction boxes all over the city. However, if you're just having a short break in Brighton, head to St George's Mews, in the North Laines. It's like wandering in an open-air gallery. And graffitis are a great reason to visit Brighton in Winter.
Like in Bristol, considered one of the street art capitals, you'll find in Brighton large scale murals created by well-known artists like Banksy, Snug, Aroe and Odisy. Other graffiti are works of less famous albeit great illustrators. And who knows? Some of them could become street art celebrities in the future.
Anyway, the anonymity (or the difficulty to find out the author of a mural) doesn't matter. A lot of Brighton graffiti is beautiful and striking.
Take a visual tour of Brighton Street Art
Here are some of my favorite Brighton graffiti, but there are many more. Also, keep in mind that street art is ever changing. Year after year, you'll see new murals, while others might have disappeared.
Snug, The Hair Cutter
It took him months to complete The Hair Cutter, the stunning mural realized for a hairdresser along St George's Mews.
Snug has a longstanding presence on the street art scene, and his talent was recognized and also appreciated by famous brands like Hugo Boss and Absolute Vodka, for which he produced corporate artwork. Some call him 'the perfectionist,' for the extreme care Snug puts in his work, making him an acclaimed muralist.
Odisy and Aroe, The Run DMC Mural
This large, impressive mural was painted in 2008 and is the result of a collaboration between Odisy and Aroe, two well-known British street artists.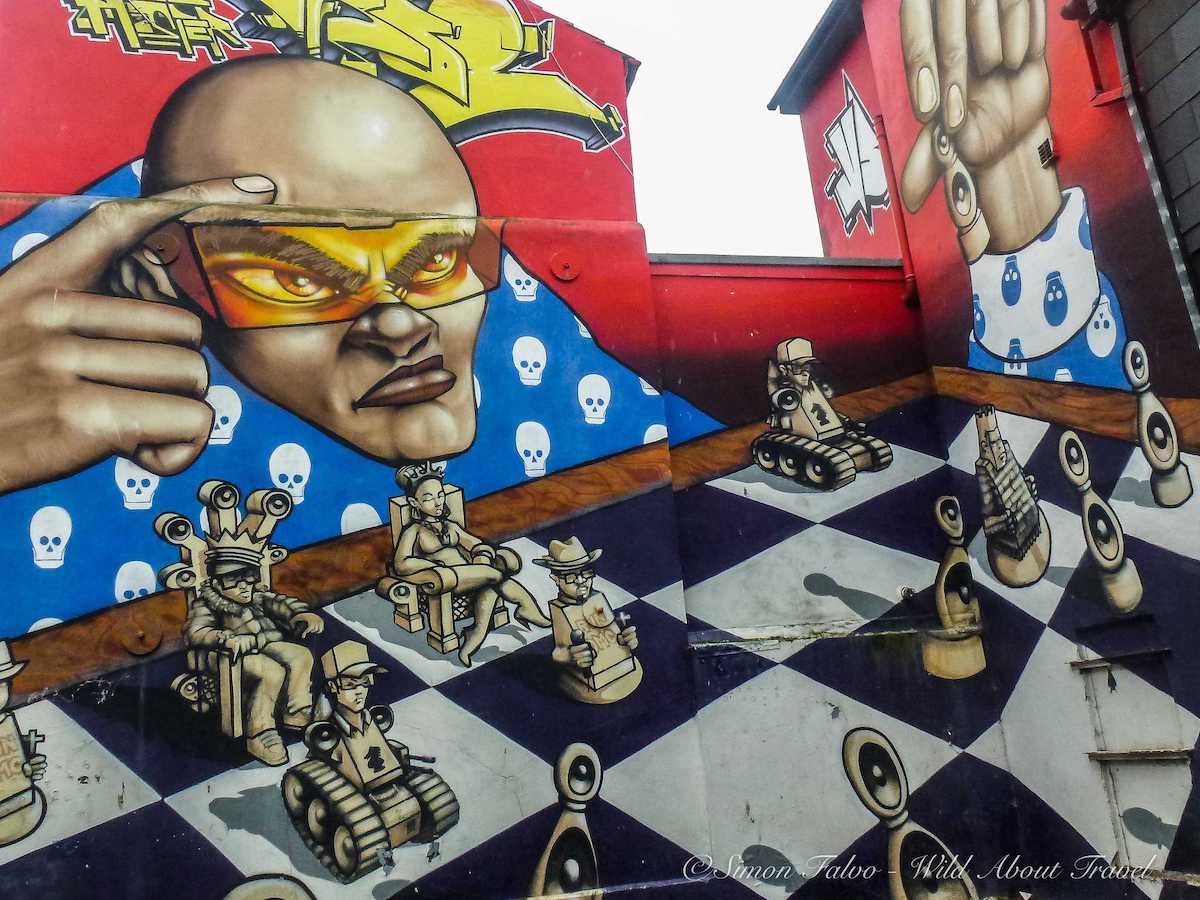 Locals call it the Run DMC Mural, from the legendary American hip-hop Group that had a significant influence in the developing of the hip-hop culture in the 1980s. The mural features Jam Master Jay playing chess and contemplating the next move over a black and white chessboard. Some of the pawns represent other members of the Run DMC band as well as the famous American rapper Rakim.
Head to Kensington Street in the North Laines to admire this large scale mural, covering the back of two big buildings.
Dominic Alves, Aung San Suu Kyi
  

"Use Your Liberty to Promote Ours"

The story of this beautiful large mural in Kensington Street is quite intriguing. Brighton & Hove City Council commissioned the wall painting for the 2011 Brighton Festival, which named Aung San Suu Kyi Guest Director to celebrate liberty and freedom.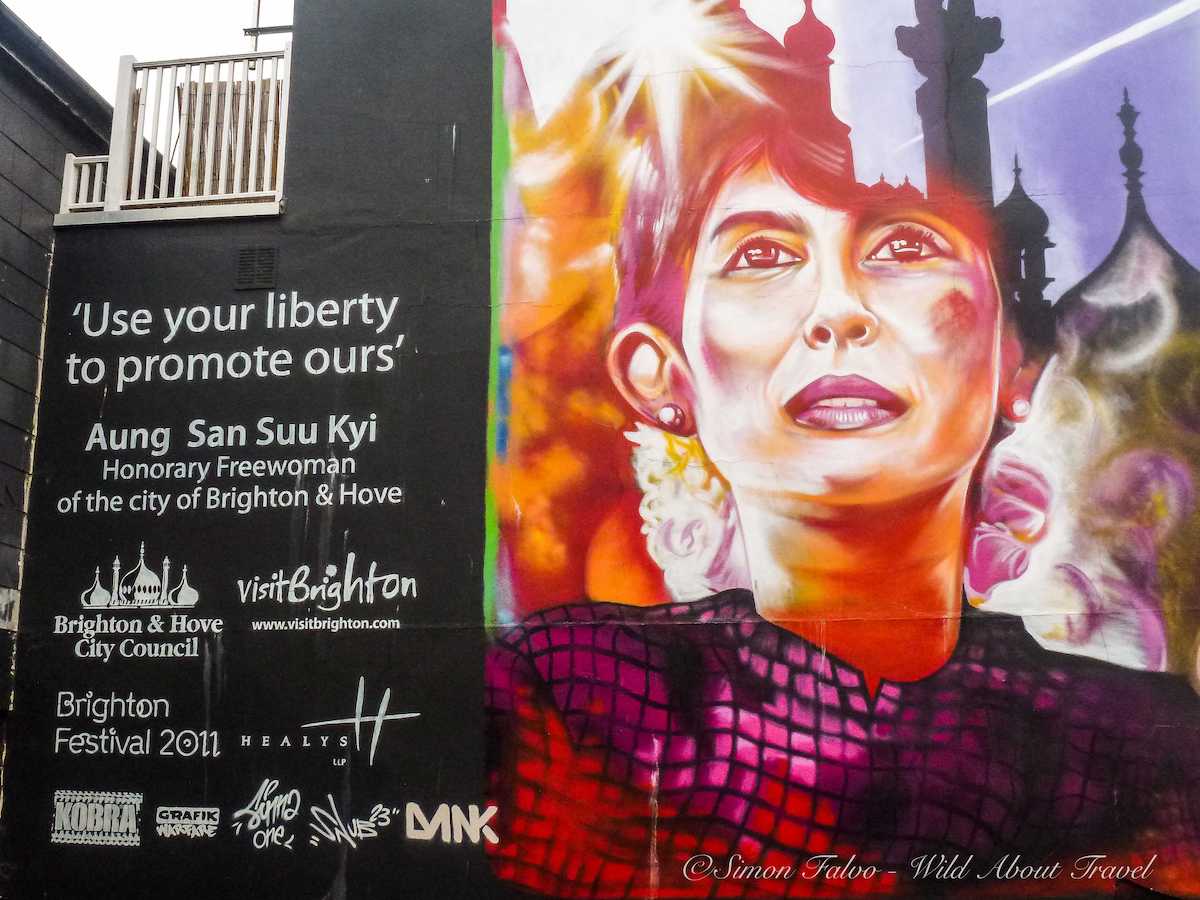 Aung San Suu Kyi had been freed a few months earlier, after almost 15 years under house arrest at the hands of the military rule which controlled Myanmar from 1962 to 2011. In 2016, Aung San Suu Kyi became State Counselor of Myanmar. However, the woman who once epitomized freedom went under heavy scrutiny after the persecution of the Rohingya, a Muslim minority. Brighton and Hove Council even considered to possibly remove the mural, although the proposal failed to win enough votes.
Banksy, Kissing Coppers
Although the attempts to set up his identity have been unfruitful up to now, there is no doubt that Bansky, stands out on the British street art scene. His peculiar stenciling technique and the political and social themes frequently represented in his works made him one of the most famous street artists in the world.
You can see a copy of Banksy's provocative Kissing Coppers in 48 Trafalgar Street, close to Brighton Railway Station. Painted in 2004, Banksy Kissing Coppers was sold at an auction in the United States in 2011. The original stencil is now part of a private collection.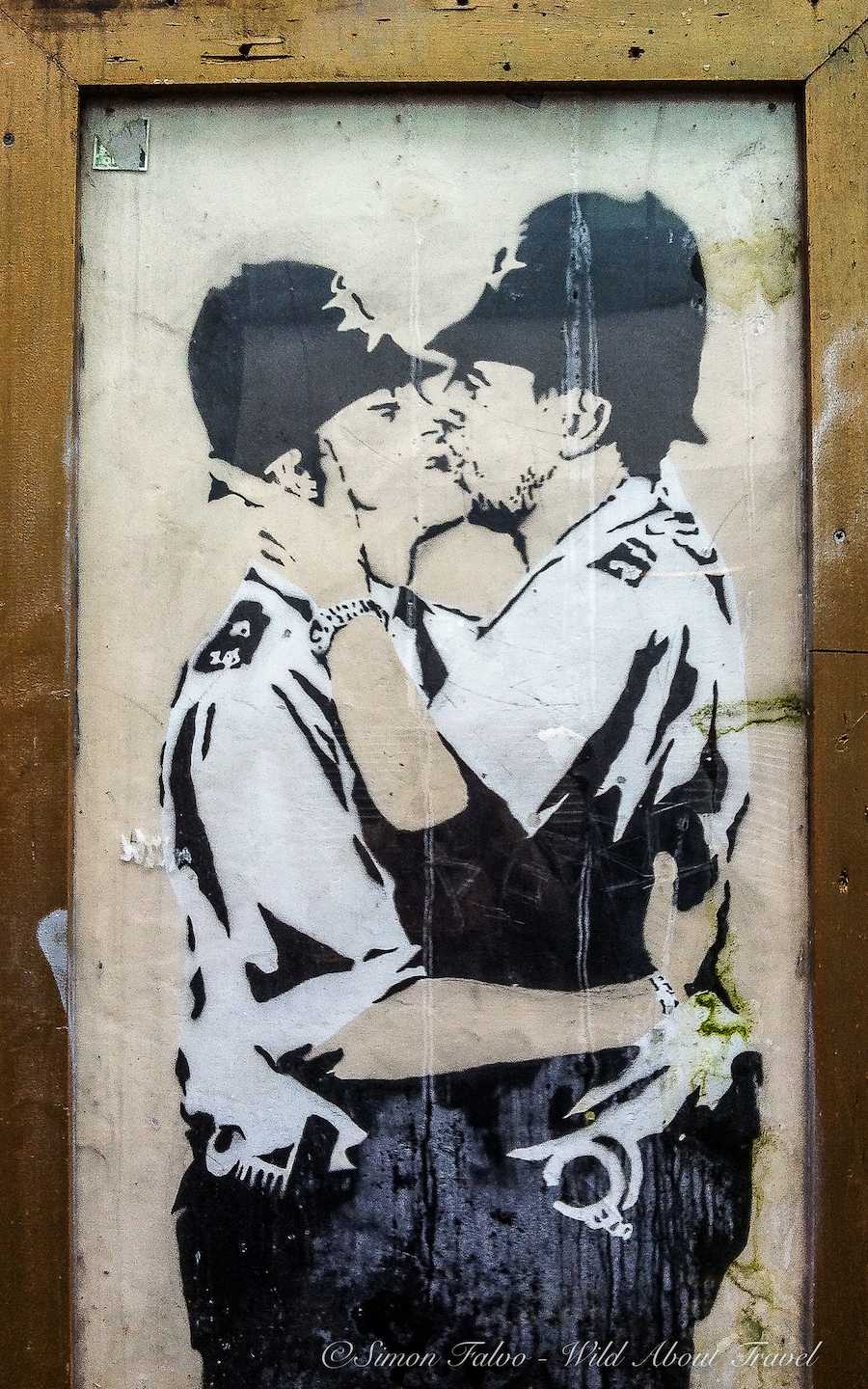 Unknown, James Brown
I grew up listening to James Brown, a legend of pop music and one of the greatest musicians and performers of his time. And this large scale mural in Robert Street is a beautiful commemoration of a music legend.
I did a lot of research online to try and find out who's the author of the James Brown wall painting, but so far I wasn't able to discover who it is. If you happen to know, please leave a comment and share with us.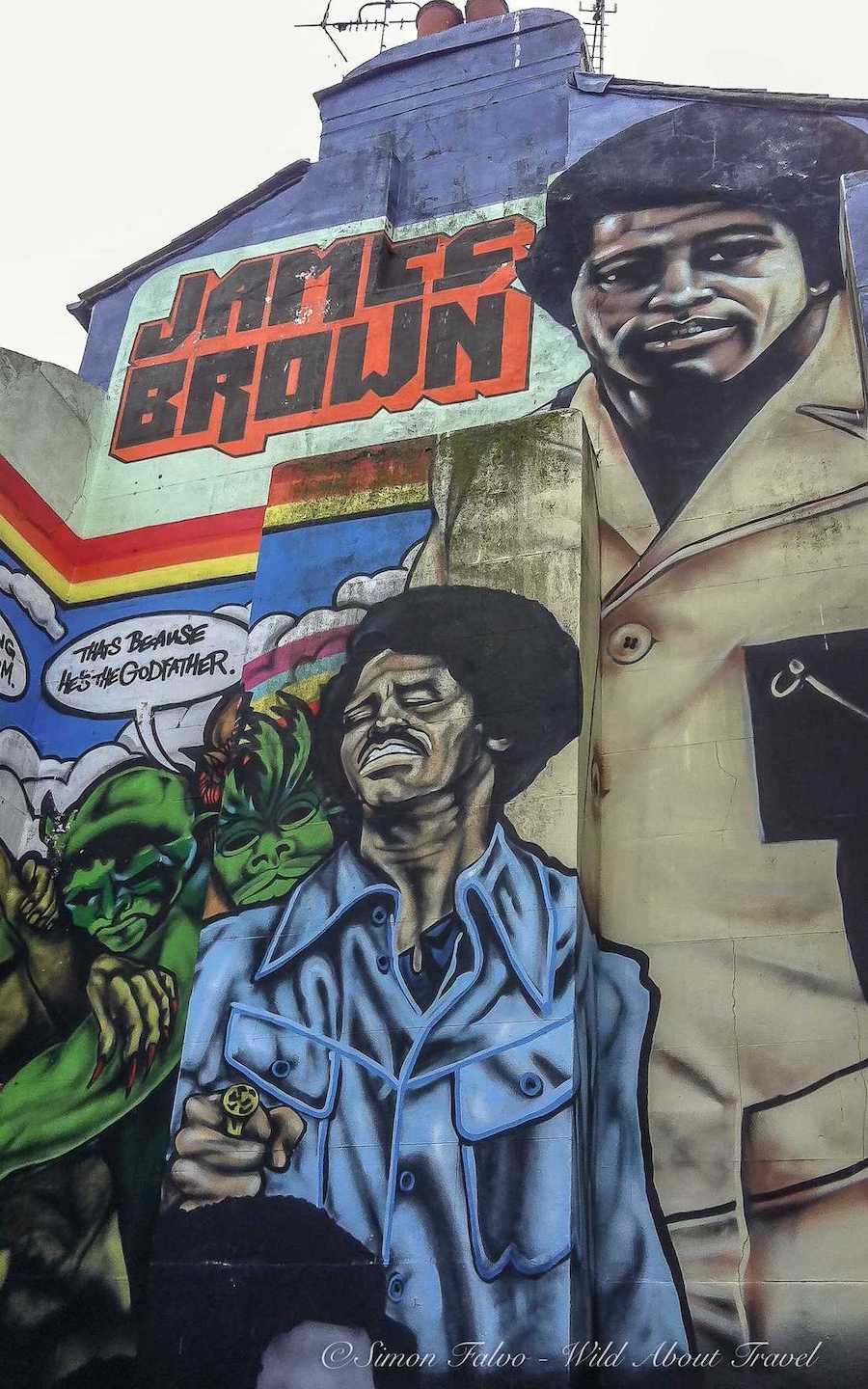 Other great anonymous graffiti in Brighton
The graffiti scene in Brighton is quite populated and one day is not enough to see all murals.
Bright colors, references to people who influenced modern culture, music or politics, paintings that tell a story. And also abstract murals, or writing.
Aircraft battle in the city
This is a totally fictional name because I couldn't find the author nor the title of this beautiful wall painting. In fact, it was one of my favorite graffiti in Brighton, and I wish I were able to learn more about it.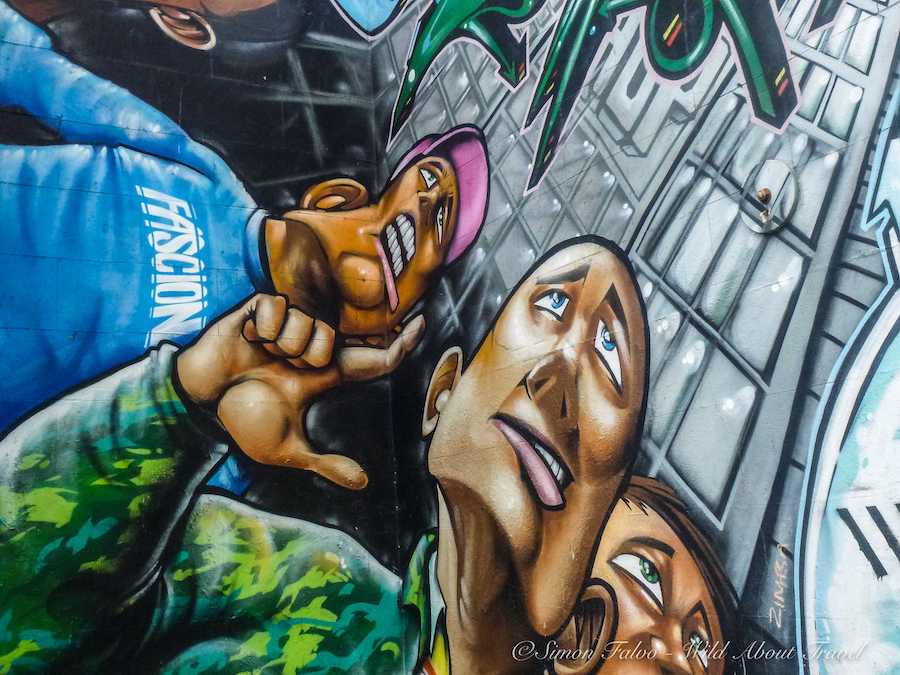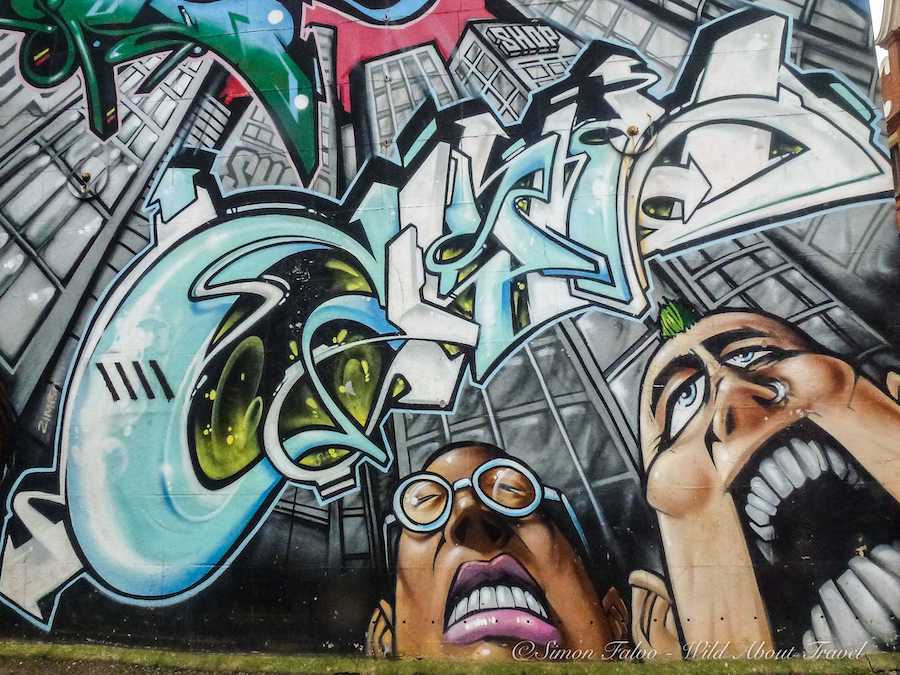 Want to read more articles about street art around the world?
Bristol street art: uncovering the city's vibrant urban art scene
A visual tour of Buenos Aires beautiful street art scene
The colorful street art of Marseille Cours Julien
Hamburg, graffiti in St. Pauli quarter
Berlin East Side Gallery: Memory, Hope, and Decay
How to get to Brighton from London
By train, you can reach Brighton in less than 1 hour from London Victoria, and about 1:20 hour from London Paddington. From London Gatwick airport there's a regular bus service to Brighton, and it takes less than 1 hour.
Best time to visit Brighton
Brighton can be visited at any time of the year. However, if you want to avoid the crowds, score better prices and have a somewhat different sight of this well-known sea resort, you might enjoy the charm of Brighton in Winter.
Where to stay in Brighton
The stylish and quirky Artist Residence is conveniently located close to the beachfront, restaurants, and bars. It's also near the Laines, and some of the Brighton Graffiti mentioned above.
Check more hotels in Brighton
_______
This post contains affiliate links to services I tested personally or carefully selected. If you choose one of them, I get a small commission at no extra cost for you.