"It's not a dessert wine. More correctly, Moscato di Scanzo is what we call a meditation wine", the girl explained. 
It took me a few seconds to refocus. I admit that I'm not a great wine connoisseur, and in my mind "moscato" was a synonym of sweet wine, mostly served with cakes and deserts, sometimes paired to strong and aged cheese. To take in the concept of "meditation wine" my imagination had to travel outside Italy: precisely to Portugal. Here it was, the one that I always associated to "meditation": Port wine.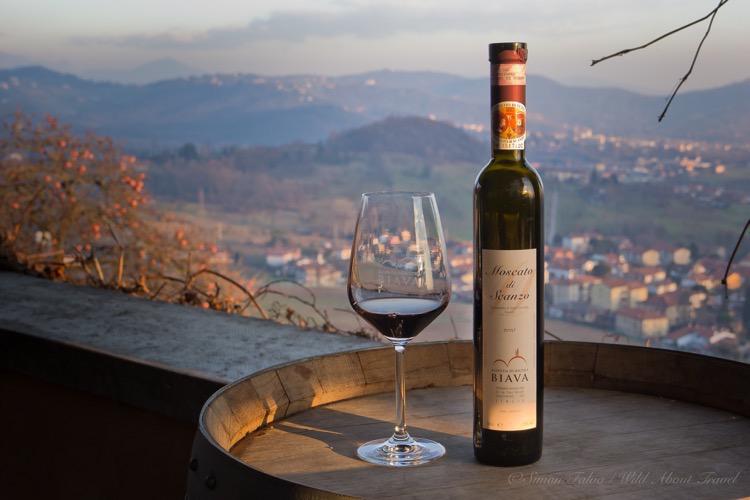 I could almost see men gathering after dinner in a wood panelled room, surrounded by high shelves filled with old and beautifully bounded books as they lit their cigars and savoured the finest Port wine, talking about "serious matters" considered not appropriate for women at the time.
In our present world, where life flows so quickly and people always seem in a rush, it was hard to put in the picture a meditation wine, meaning taking the time to taste a nectar in good company and the right environment. 
It took me only a couple of sips to see why Moscato di Scanzo invites to meditation.
How can I possibly find words to describe something which tasted to me like a nectar of the gods?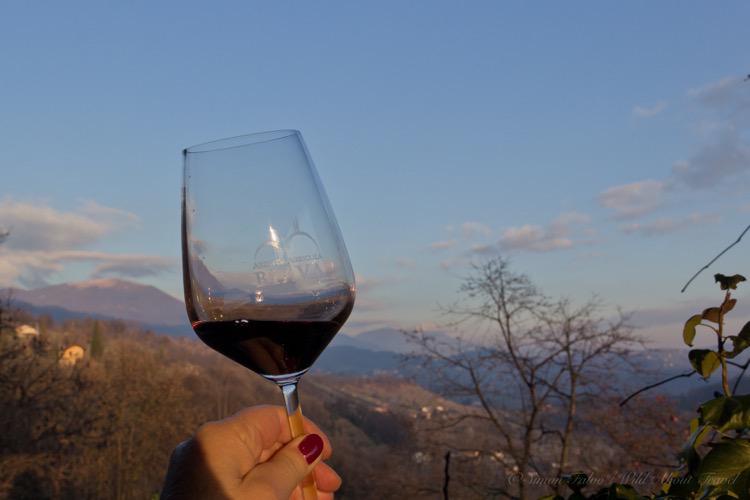 Full-bodied, moderately sweet with a slightly bitter aftertaste mixed with the flavours of berries, plum, dog rose, vanilla and other spices, Moscato di Scanzo is a complex wine calling to be relished almost religiously. It's easy to understand why it's described as a wine for meditation, and the reason the advice is to taste it alone (if you really want to pair it, the only suggested foods are extra dark chocolate of excellent quality, dry biscuits and blue cheese but believe me, you won't want to mix the flavours). 
The colour is an intense ruby red and the perfume intense and persistent. While I smelled and tasted this unbelievable wine, I felt very privileged.
Moscato di Scanzo is a product of love, passion and patience. 
Granted the DOCG (the highest classification for Italian wines), the production of Moscato di Scanzo is subject to many severe rules set up and enforced by the Consortium. It is one of the best and lesser known local products of the Lombardy region, a beautiful area too often overlooked by tourist visiting the Italian peninsula.
The grapes with which this very special moscato wine is made is a variety growing only in the small area of Scanzorosciate, not far from Bergamo (a little gem in Northern Italy which is not to miss). Here, steep hills of marly limestone – locally called Sass de Luna, or Moon Stone – exposed to the south are the perfect environment.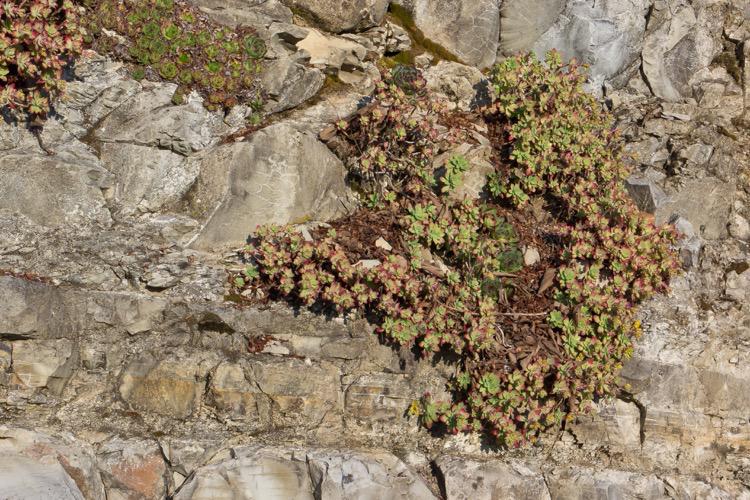 The entire processing has to be made within the tiny Scanzorosciate territory and must follow a long and meticulous procedures.
In autumn, usually October, the local wine producers harvest the bunches manually. After a careful selection, the grapes are laid laying them after a careful selection on wooden grates inside a special room with natural or controlled ventilation where they will dry for 21 days as a minimum but often longer, in order to increase the wine quality. During that period, the bunches are regularly checked to remove the grapes not drying properly in order to have only the best ones.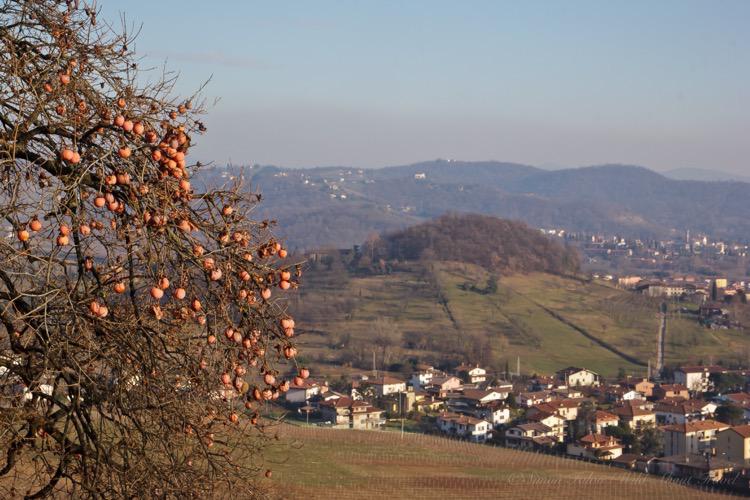 The fermentation takes place in stainless steel wine tanks for a minimum period of 2 years, although some producers prolong it to 3 or 4 years.
Since the Scanzorosciate area is small and the maximum yield on the originally harvested bunches is around 30%, it's easy to understand why the yearly production of Moscato di Scanzo is very limited and the wine is rare and precious.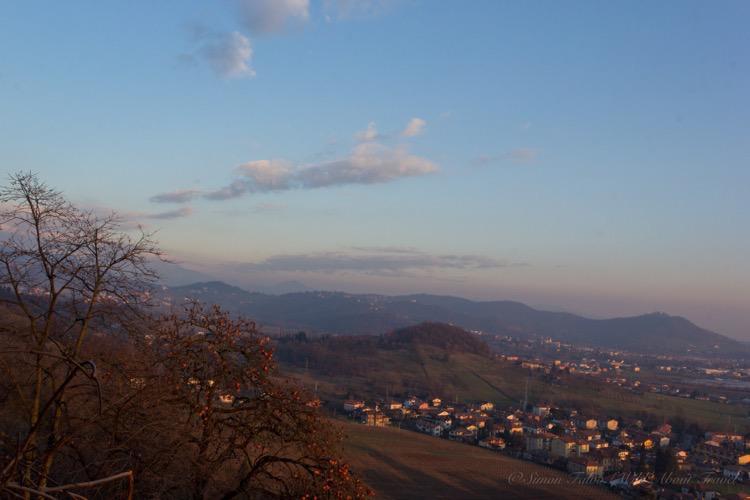 The result of such a long and loving work is a unique wine for meditation, appreciated by the Royals. At the end of the 18th century the Italian architect Giacomo Quarenghi, who worked on many magnificent buildings in Russia, offered some bottles of Moscato di Scanzo as a present to the Csarina Catherine II of Russia, and still today one of the producers supplies the Royal House of England with this wonderful meditation wine. 
Practical Information:
Getting to Sanzorosciate:
The car is certainly the best option to reach Scanzorosciate, about 7 km from Bergamo and a 17-20 min ride. Alternatively, you can take the bus from the train station (n. 1 only during weekdays and n. 5), or a taxi. 
Where to taste Moscato di Scanzo:
Reservation for a paying visit and tasting session is possible by:
La Brugherata – www.labrugherata.it
Magri Sereno – www.aziendaagricolamagrisereno.it
Pagnoncelli – www.moscatopagnoncelli.com
More producers can be found on the Consortium website. If there's a specific one you'd like to visit the best thing is to contact them directly to verify availability and prices. 
Where to buy/drink Moscato di Scanzo:
You'll find this precious wine in many Michelin starred restaurants, as well as in the best specialised wine shops. 
Map Bergamo-Scanzorosciate: 
_______
Note: This post was brought to you as a result of the #inLombardia365 campaign, created and managed by iambassador in partnership with Lombardy Tourism. As always, Wild About Travel retains all editorial control of what is published (and as you can easily imagine, the enjoyment of tasting Moscato di Scanzo was all mine!).