New Plymouth and the coastal walk are nothing worth crossing the ocean, but the town has a nice easy-going allure and the walk along the coast is peaceful and in some points offers rewarding views on the ocean and the surrounding nature.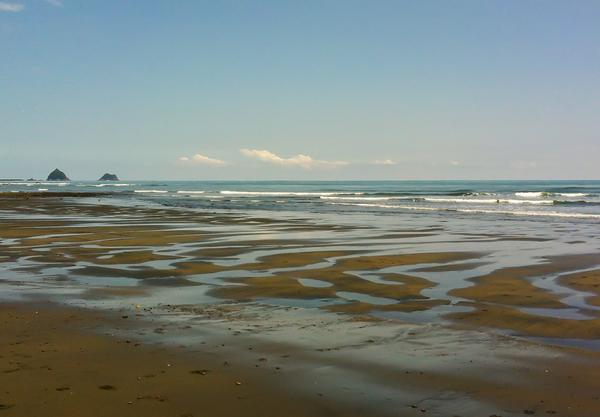 I decided to head towards East, giving the back to New Plymouth harbor whose view are nothing short of ugly. The first stretch of the coastal walk borders the seashore but after a while, being low tide, I started walking barefoot on the beach, stepping in the water which was warmer than I expected.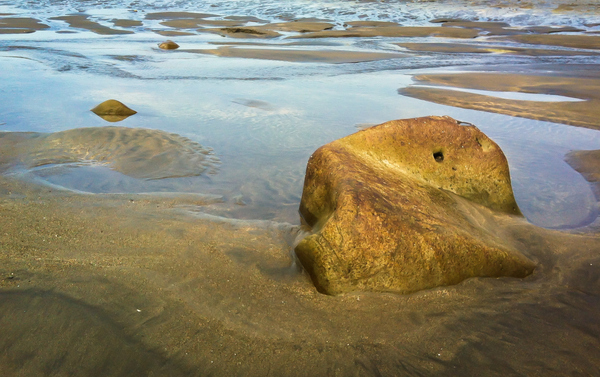 I stopped several times looking at the black sand crisscrossed by the retreating sea, leaving lovely curvy shapes reflecting the blue sky on the dark sand. It was just beautiful in its simplicity, and a lovely place for a picnic before continuing the stroll along the coastal path.
After a while, I reached the new Rewa Rewa bridge, with its modern white curvy shape outlining before the surrounding greenery. The Rewa Rewa bridge is a nice piece of modern architecture, something rather uncommon in New Zealand (where modern buildings are mostly er… ugly).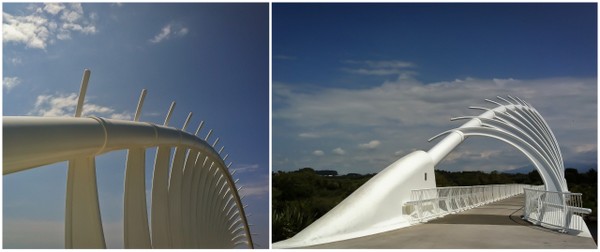 From there, the coastal walk continues to Bell Block. It's by far the nicest section of the walkway and the one I enjoyed at most.  The path goes more inland, crossing lovely fields on the right and still overlooking the sea on the left, although from farther away. No more houses or constructions, just nature and a wonderful silence and sense of peace.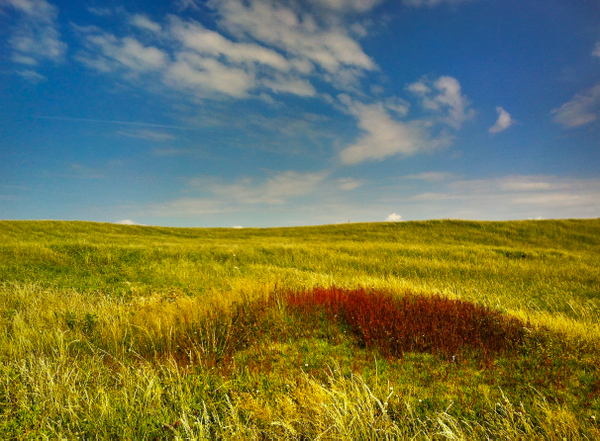 The trickiest part was finding the bus stop to go back to New Plymouth once in Bell Block, between isolated houses and almost no one in the streets to ask for information. But I eventually met a nice person who gave me directions to catch the bus.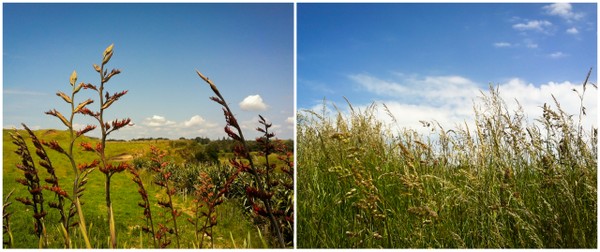 All in all, New Plymouth is worth a stop on the way from Auckland to Wellington. From there, one can easily make day trips to explore a bit of Taranaki, and maybe also spot or hike Mount Taranaki – or Mount Egmont -, when it's not wrapped up in clouds, which apparently doesn't happen often. I eventually decided to drop off Mount Taranaki as the weather wasn't good enough, glad to have opted for the coastal walk, which made for a nice and relaxing day.