When I was invited to attend Odegand and explore a bit of Flanders during Flanders is a Festival, I didn't know what to expect. Honestly, I knew nothing about the Flanders Festival and even less about Odegand and Ghent Festival, but as soon as I started gathering a few information my curiosity arose.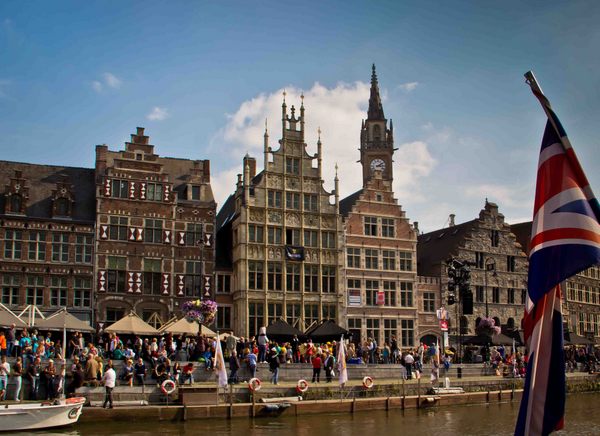 Indeed, I was stoked to find out that every year millions of people gather for this amazing Summer event offering more than 280 festivals in Antwerp, Bruges, Ghent and Brussels, making Flanders one of the most attractive European destination for music lovers.
I arrived in Ghent the day before Odegand – the event opening the Ghent Festival of Flanders – and the first thing that surprised me was the incredible vibe of the city, ready to host an unforgettable day full of music and performances. People everywhere, a big stage in the middle of Korenlei with the view on the wonderful old houses, boats ploughing through the canals, connecting part of the many venues hosting the festival. The excitement was palpable everywhere.
With over 50 performances including classical music, jazz, world music and more, taking place in several venues throughout the city Odegand is a full day celebration to music and its joy.
Blessed by a sunny and warm day, people from all around the world strolled in the streets and boarded the boats riding the canals to reach one of the festival venues, all united by the same passion: music.
Jazz, classical and world music and an unforgettable evening. Odegand is a wonderful opening to the Ghent Festival.
After attending a few concerts and savoring a good lunch, I decided to take advantage from the lovely weather to make some photos and explore more of the city.
Close to the beautiful Town Hall, I stepped into a funny street performance and stopped by for a while to enjoy the show. Stilt walkers impersonating colorful ostriches were dancing in the square, accompanied by drummers and involving the public.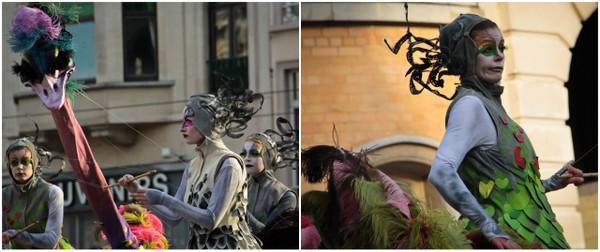 However, Odegand climax was the night closing event, taking place between Korenlei and Graslei along the canals, with the old houses beautifully illuminated. A stunning round-up of music of different genres, a light and sounds performance, lighted kites gracefully dancing in the dark sky and the superb finale with fireworks.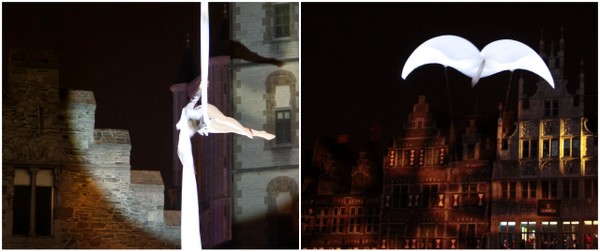 It was a perfect day.  Ghent, one of the most beautiful cities in Europe, as a background, a relaxed atmosphere and a wonderful vibe. For one day, it seemed as if music could overcome the differences: bringing together people from different ages, nationalities, races and social background.
Music is universal, and for this very reason, it is so powerful.
Have you ever been to a music festival? Do you think music is a universal language?
Note: I was kindly invited to discover the awesome city of Ghent by Visit Flanders. However, my enthusiasm is uniquely the result of my love for music 
More reading: From Mexico to Flanders: The Fascinating History of Chocolate