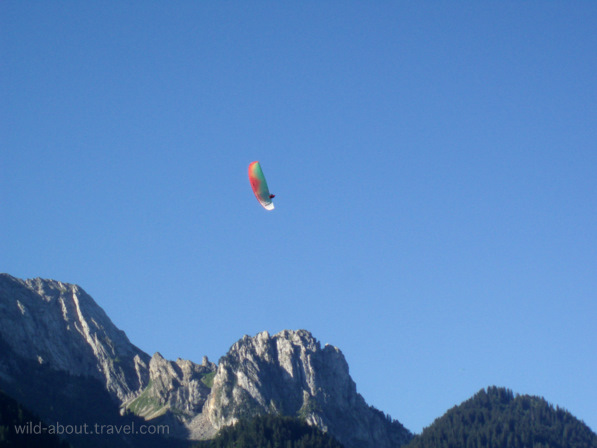 Looking at them dancing and swinging in the air makes quite impossible not to think "I'd like to try it too, at least once". And that's how I decided to experience my first paragliding flight over the mountains.
A tandem flight with an instructor is indeed expensive, but the emotions I felt were so great that I really did not regret the money spent. Take off is much easier than I thought. Just a few steps running down the hill and… we were in the air! And so we started flying, driven by the wind, admiring the mountains around us and the villages beneath. I'm not that brave, so I felt thrilled. A mix of fascination and fear.
During the flight Fabrice, the instructor, told me that he has been doing paragliding for 17 years and that he flew in a lot of different places among which Nepal and the desert. He did lots of competition in the past, then opened a school in Gstaad.
We continued to fly over the mountains, admiring the landscape, enjoying the silence. Then we started to descend, slowly. Landing was again a great emotion. Fabrice explained that we just had to run once down on the earth but I was not expecting to go that fast, rapidly seeing the ground approaching and thinking "Gosh, we will splash down!". But then, unexpectedly, the speed reduced very quickly and the landing was eventually very smooth.
I asked Fabrice a few information regarding learning paragliding. Getting a certificate is quite long, as you need to do 50 flights, but the good thing is that you start flying alone very quickly, obviously in very simple conditions. Equipment is rather expensive, but if you are really passionate you can exploit it a lot because there are so many place where you can just pick up your bag and go for a flight.
I'm happy to have tried, but I'm not sure I would be brave enough to fly alone. Maybe a second trial, to see if I would feel more confident…
Travel addict and passionate about photography, Simon Falvo started Wild About Travel back in 2009. Leveraging her strong PR background, she developed an extensive knowledge of Digital Communications and Social Media Marketing. Besides travel writing Simon holds workshops and trainings, she collaborated with tourism boards for digital marketing campaigns and participated as a speaker at several events.