It's so easy to reach Munich that the city is perfect for a short break. But where to stay in Munich? The city is a mosaic of different neighborhoods, and while most attractions are in the historic center, other areas are worth looking at.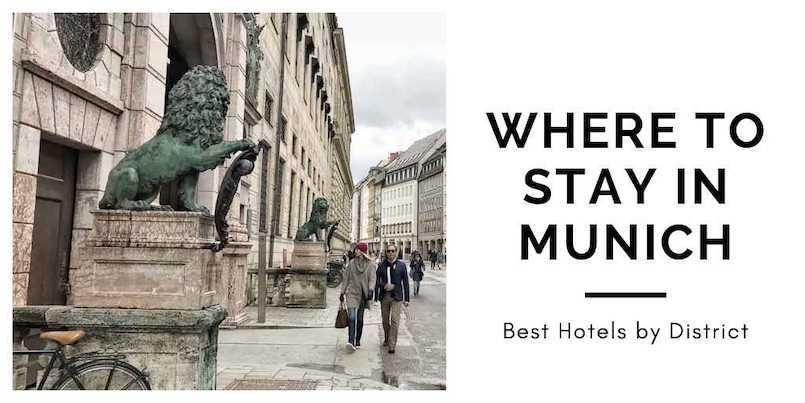 The Bavarian capital offers a lot to do and see, whether you want to immerse yourself in the city's culture, plan to visit Munich during Oktoberfest, or are in love with Christmas markets. However, if you're only spending two days in Munich, you may want to find the right neighborhood where to stay. The best places to stay in Munich are relative. And it all depends on your interests and budget. Also, although public transportation is extensive and efficient, some areas might be best suited if you consider having one or maybe a couple of day trips from Munich.
Here's my selection to help you find where to stay in Munich by district.
Altstadt: many landmarks within walking distance
Munich historical center (Altstadt) is small but full of charm. Munich suffered massive bombings at the end of World War II. However, during the immediate postwar years, the city made an enormous effort to restore and rebuilt all damaged landmarks as they were. The Altstadt kept its previous street grid: a maze of alleys, small squares, and imposing monuments.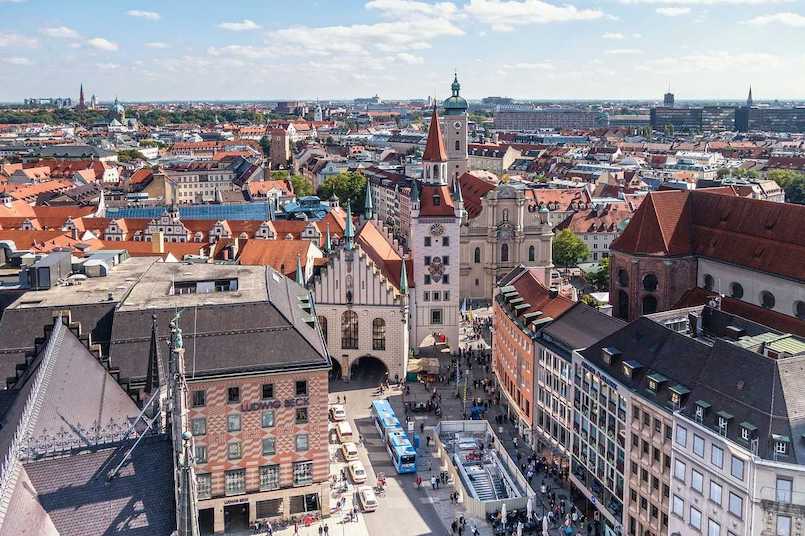 The heart of the Altstadt is Marienplatz, the square where all the main streets converge, dominated by the Town Hall, with its Gothic style. Nearby, you'll find the Viktualienmarkt market. That's a lovely place to go to taste delicious local specialties.
The Altstadt is the best place to stay in Munich if you want to be within walking distance from the city's main attractions: monuments, museums, restaurants, pubs, and shops. The historical center is also the area where you'll find the most luxurious hotels in the city.
Altstadt accommodation is generally more expensive, but that happens in any European city. It's the same in my city, Milan; staying in the center comes at a premium price. However, the higher cost is compensated by the convenience of staying in the area with the most attractions, only a stone-throw away. Additionally, the historical center is well-served by public transportation, which allows you to reach other neighborhoods quickly.
Things to do in Munich Altstadt
Visit the Residenz, the Old City Hall, Odeonsplatz, the New City Hall, and the Glockenspiel, with its figures coming out to dance. Climb the bell tower to admire the city from above. Don't miss the Frauenkirche, one of Munich main landmarks.
Wander between the stalls at Viktualienmarkt
If you like Street Art, pop in at the Museum for Urban and Contemporary Art (MUCA)
Discover the city uncovering the traces of the past with the Munich Third Reich Tour.
Explore Munich by Bike. Start at Munich main train station and discover the best of the city with local Munich residents.
Enjoy a classical music concert at the Munich Residenz, in the chapel where Mozart played.
the Glockenspiel, with its figures coming out to dance. Climb the bell tower to admire the city from above. Don't miss the Frauenkirche, one of Munich main landmarks.
Best Hotels in Munich Altstadt
– Pension Am Jakobsplatz – A guesthouse with small modern rooms only 400m from Marienplatz. Nothing fancy, but the location is perfect.
– Living Hotel Das Viktualienmarkt by Derag – A stylish, contemporary hotel located beside Viktualienmarkt and only 200m from Marienplatz.
– Hotel Torbräu – A family-run hotel with classic rooms. Marienplatz is just a 5-minute walk from the hotel, which is also only 100m from the Isartor S-Bahn Train Station.
– CORTIINA Hotel – Elegant and stylish, Cortiina Hotel is just a few minutes walk to Viktualienmarkt and Marienplatz.
– Louis Hotel – Modern and stylish, Louis hotel is in the heart of Munich Old Town, close to Viktualienmarkt and Marienplatz.
– Vier Jahreszeiten Kempinski München – Modern and classic, the 5-star hotel features a spa and an indoor swimming pool. Close to Marienplatz and the Residenz.
– Bayerischer Hof – A wonderful luxury hotel, featuring 5 gourmet restaurants and 6 bars. Bayerischer Hof also has an exclusive spa with a rooftop pool and is only steps away from Munich old town main attractions.
Lehel: an elegant district a stone-throw from Marienplatz
The elegant residential district of Lehel is only steps away from the historical center, so much so that it's often considered as one with the Altstadt. This area oozes charm, with its maze of small streets lined with imposing buildings dating back to the 1800s and restored villas. Indeed, many of these have been converted into nice Bed&Breakfasts and boutique hotels.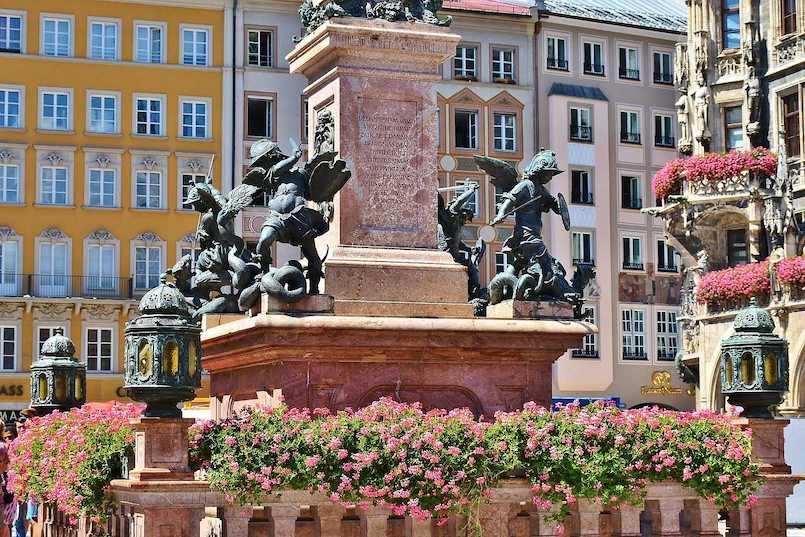 Lehel is a strategic area to stay in Munich if you want to stay away from the hustle-bustle of the center, but at the same time within walking distance.
Where to stay in Lehel
Budget
– Hotel ADRIA München – Adria features simple and modern rooms and is only a 3-minutes walk to the Lehel U-Bahn station. Marienplatz is 1.1k away.
Medium
– Boutique Hotel Splendid-Dollmann – Set in a beautiful building dating back to the 19th century, Hotel Splendid-Dollman features superb classic decor. You'll feel like stepping back in time.
– Hotel Opera – Opera is a classic hotel in a quiet area about 10 min from Marienplatz. The hotel features a lovely courtyard garden where you can relax.
Maxvorstadt: for art and culture lovers
Maxvorstadt is the art and culture heart of Munich. In this area, you'll find most of the city's main Museums, including the Pinakotheken, the three museums housing masterpieces of famous artists such as Bruegel, Rembrandt, Monet, Monet, Dalì, to mention only a few. In Maxvorstadt, you'll also find many cafes and, if you want to do some shopping, lovely boutiques.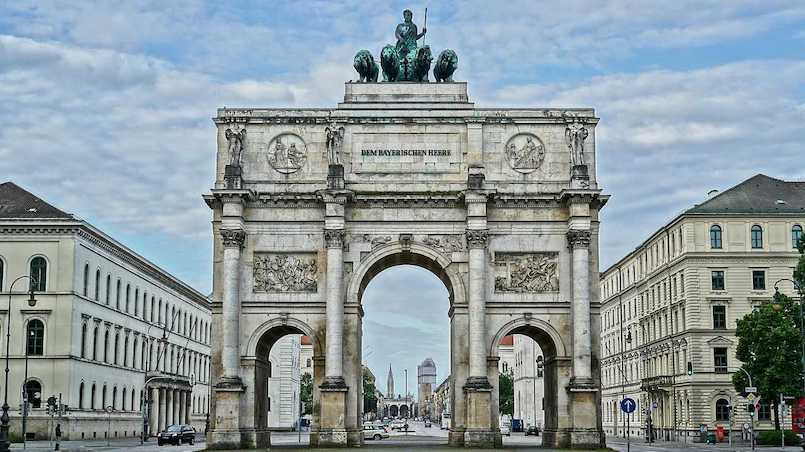 During the Christmas markets season, don't miss to visit the Medieval Christmas fair (Mittelalterlicher Christkindlmarkt), taking place from the end of November until Christmas Eve.
Things to do in Maxvorstadt
Visit the Pinakothek (Alte, Neue, Der Modernen), one of the great art Museums in the world.
Discover the Brandhorst Museum, a fantastic collection of contemporary art, including the most extensive collection of works by Cy Twombly, and the largest display of works by Andy Warhol.
Stroll in the English Garden, the green lung in Munich. Or, if you want to try something different, take a Segway tour.

Where to stay in Maxvorstadt
– King's Hotel CityStay – Maybe not the prettiest décor, but this recently open hotel is modern and is good value for money.
– Ruby Lilly Hotel Munich – Only 800m from Munich main train station, Ruby Lilly features modern design rooms. Underground and a tram station are right in front of the hotel, making it very easy to get around.
– Hotel im Hof – The hotel features modern and tastefully decorated rooms. Less than 1km from the Pinakothek, Hotel Im Hof is very close to the Theresienstraße underground station.
Schwabing: young, trendy, and multi-ethnic
To the north of the historical center, Schwabing is a young, trendy, and multi-ethnic neighborhood. Once a bohemian quarter, Schwabing slowly changed as gentrification increased. It's a beautiful area to stay in Munich, not least because of its proximity to the English Garden, one of the world's largest urban parks.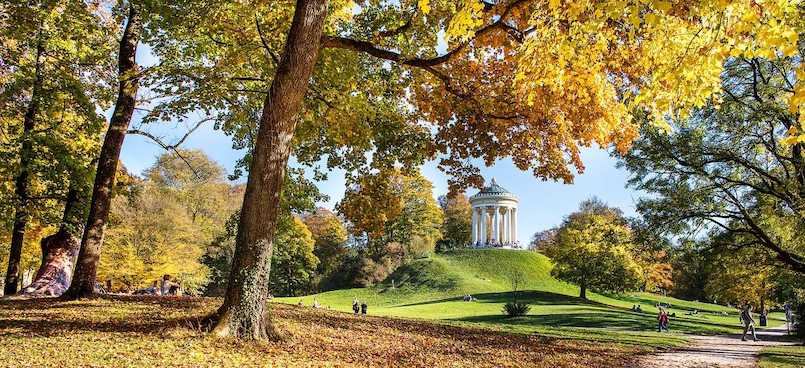 A lovely spot for a relaxing stroll, the Englishe Garten also houses the second largest Beer Garden (a must!) in Munich. Schwabing is also the area to go for luxury shopping (or even just window shopping), long the famous Leopoldstrasse boulevard, a wide tree-lined avenue lined with boutiques from the best high-end brands.
Hotels in Schwabing are slightly cheaper than in the Altstadt, but still of quality. That's a good option if you want to stay within a medium budget, in a lovely area not far from the center, and very well connected by metro.
Where to stay in Schwabing
– Schwabinger Wahrheit by Geisel – The hotel features rooms with contemporary stylish furniture and is just 600m from the English Garden. Good value for money in a lovely area.
– Steigenberger Hotel München – A beautiful hotel with a contemporary style that is also warm and welcoming. Steigenberger hotel features rooms with wooden floors, and a restaurant serving local cuisine, as well as vegetarian and gluten-free dishes.
– Hilton Munich Park – Featuring modern and stylish rooms, a gym, and a sauna, Hilton Munich Park is near the English Garden and close to public transport.
– Munich Marriott Hotel – The hotel features modern rooms and offers free access to the Himaphan health club (gym, sauna, and steam room. Furthermore, there's free parking right in front of the hotel, and the Nordfriedhof underground station is only 300m away.
– Andaz Munich Schwabinger Tor – a concept by Hyatt – A fabulous luxury hotel, featuring a spa, fitness center and pool area with sundecks. From the rooftop bar, you'll get amazing views of the city and, with a little luck, of the Alps.
Ludwigsvorstadt/Isarvorstadt: lively districts, best area to stay for Oktoberfest
Ludwigsvorstadt/Isarvorstadt is the district of Theresienwiese, where the Beer festival takes place. Therefore, if you're looking for the best area to stay in Munich for Oktoberfest, look no further.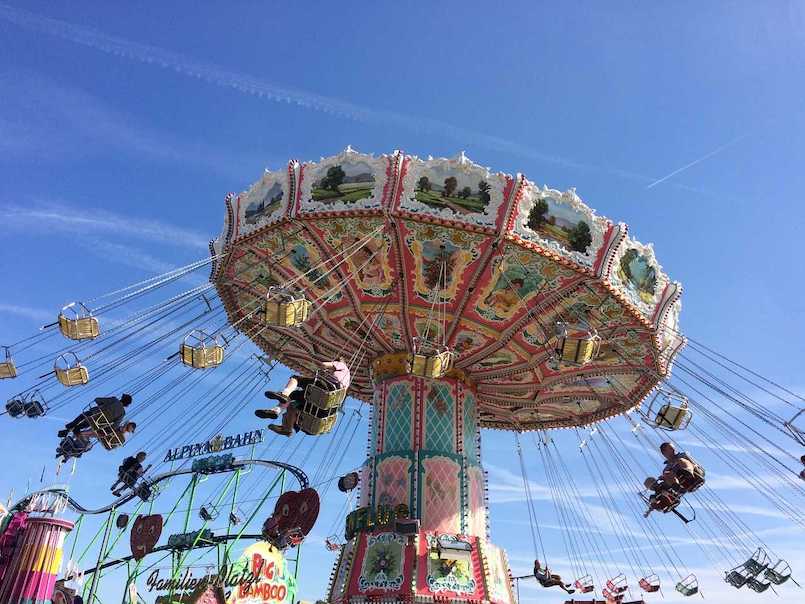 Ludwigsvorstadt is the area adjacent to Munich Central Station. This is a vibrant neighborhood, with immigrants from lots of countries, and a lot of ethnic restaurants. Due to its proximity to the main station, it's an excellent area to stay in Munich if you want to travel by train. Also, there's a wide variety of public transportation to get around. Ludwigsvorstadt is an excellent choice for young travelers looking for budget accommodations. Furthermore, being close to Munich Hauptbanhof makes Ludwigsvorstadt also an excellent option if you want to have a day trip from Munich (and there are plenty!).
South of Altstadt is the lively district of Isarvorstadt, which does not host significant attractions except the Deutsches Museum, considered one of the best science museums in the world. However, Isarvorstadt is famous for its lively nightlife thanks to the high concentration of theaters, pubs, and night clubs.
In Isarvorstadt you'll find different types of accommodations, from budget hostels to medium-priced and more expensive hotels.
Where to stay in Ludwigsvorstadt/Isarvorstadt
– Maison Schiller by DesignCity Hotels – A budget hotel with character, Maison Schiller is within short walking distance to the Main Train Station and to the Oktoberfest.
– Cocoon Hauptbahnhof – Although it might feel weird in a city, the alpine-style of Cocoon Hauptbahnhof is charming and funny. The hotel features a garden and a terrace and is only steps from the Central station and the underground.
– Müller Inn B&B – A simple but cozy bed&breakfast, offering good value for money. Muller Inn B&B is less than 1km from Marienplatz and Viktualienmarkt, and 300m from the Sendlinger Tor underground station.
– Hotel Metropol – Featuring modern and cozy rooms, the hotel is on a quiet road very close to the Munich Central Station. Hotel Metropol is located less than 10 minutes to Oktoberfest.
– Hotel Excelsior – A beautiful hotel, only 150m from the Central station and within walking distance to the Oktoberfest. The rooms feature modern decor with Bavarian touches.
– Aloft München – Next to the Munich Central Station, Aloft features a stylish, contemporary design. Oktoberfest, Marienplatz, and Viktualienmarkt are all within walking distance.
– 25hours Hotel The Royal Bavarian – A stylish hotel with a unique flair, right by the Central Station and close to the old town and Oktoberfest. The hotel features a restaurant and a sauna.
Haidhausen: a trendy area for classical music lovers
The Haidhausen district stretches along the opposite bank of the Isar River. Mome to the Strauss Conservatory and the Munich Philharmonic Orchestra, this is a great area to stay if you're passionate about classical music.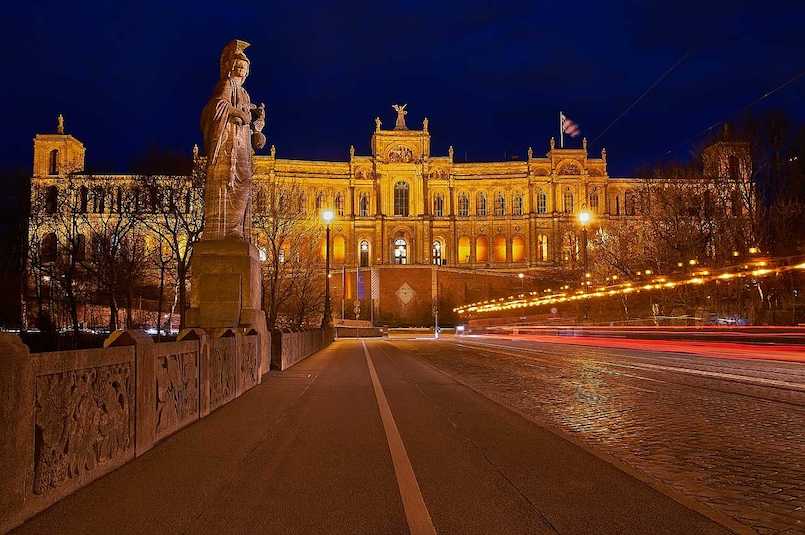 Haidhausen is also a trendy district, with plenty of lovely cafes, restaurants, and flea markets. Don't miss the unique daily Weiner Markt, the smallest food market in Munich.
In Haidhausen, you'll find numerous hotels, hostels, and bed&breakfasts, offering accommodations for all tastes and budgets.
Where to stay in Haidhausen
– Marias Platzl – A charming Bavarian-style hotel, Marias Platzl is close to Mariahilfplatz and to public transport.
– Design Hotel Stadt Rosenheim – A family-run hotel with lovely design decor, right in front of the Ostbahnhof Train Station. Good public transport connections to get around.
– Courtyard by Marriott City East – Only a 5-minutes walk to the Ostbahnhof Train Station, the hotel features modern rooms and a fitness center. The Courtyard by Marriott is only a 15-minute walk from the Maximilianeum Palace.
– Hilton Munich City – The hotel features modern rooms, a free 24-hour gym, and 2 restaurants. Hilton Munich City is located right above Rosenheimer Platz S-Bahn Station, from where you can catch fast connections to the city center, Munich Airport, and Munich Central Station.
– Hotel München Palace – A beautiful 5-stars hotel featuring elegant and stylish rooms, a lovely courtyard, a small gym, sauna, and steam room. Hotel Munchen Place is a 5-minutes wit to Max-Weber-Platz Underground Station.
Neuhausen/Nymphenburg: quiet and budget-friendly districts
About 20 minutes by tram from the center, in the northwestern part of the city, Neuhausen and Nymphenburg are two quiet residential districts away from the bustle of the center. Perfect for families, for those looking for a relaxing holiday, or who want to get in touch with the most authentic face of Munich, these two districts offer a completely different landscape from the center.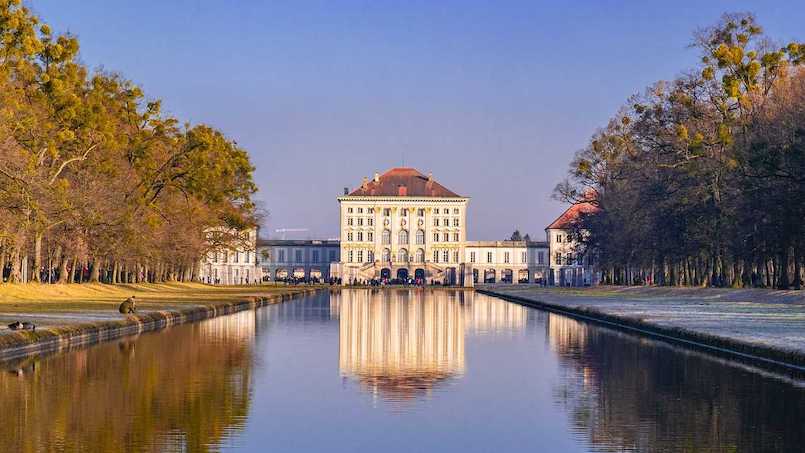 There, you'll find wide tree-lined avenues, lots of green areas, elegant residences, and the nearby famous Schloss Nymphenburg, one of Munich's most visited attractions.
Furthermore, Neuhausen is home to several quirky cafes, and once a year, the district holds the Neuhauser Musiknacht music festival.
Both areas are well connected to the center, and there are many apartments, Bed & Breakfasts, and hotels at lower prices than in more tourist areas.
Things to do in Neuhausen/Nymphenburg
Admire the beautiful architecture of the Nymphernburg Castle, the biggest Baroque palace in Germany, and stroll in the lovely gardens. There's not much to see inside the Castle; therefore, not really worth paying the entrance fee.
Visit the Villa Stuck Museum. The beautiful villa built by painter Franz von Stuck hosts a collection of the artist's painting as well as temporary modern and contemporary art exhibitions.
Where to stay in Neuhausen/Nymphenburg
– Laimer Hof am Schloss Nymphenburg – Set in a Neo-Renaissance villa, this family-run hotel is only 400 m from Nymphenburg Castle and a 10-minute walk from the Hirschgarten beer garden. The hotel also offers free parking.
– Hotel Kriemhild am Hirschgarten – The hotel is located in a quiet area of Nymphenburg, and only a few minutes walk from Nymphenburg Castle, the Hirschgarten park, and a beer garden. Hotel Kriemhild features modern and functional rooms and is close to public transportation.
– Novotel München City Arnulfpark – A modern hotel, featuring a fitness center and a sauna, and within walking distance from public transportation.
– Holiday Inn Express Munich City West – A 3-min walk from the S-Bahn, the hotel features modern and functional rooms, with TV satellite channels.
As mentioned at the beginning, deciding where to stay in Munich depends on what the main purpose of your trip is, and also on the season.
There are countless accommodation options in Munich, and I selected some of the best by district. Despite the wide selection, you have to take into account that some periods of the year are very busy. This is particularly true if you wish to visit Munich during Oktoberfest and at the time of the Christmas Markets. In that case, I strongly advise you to book your hotel as early as possible, otherwise, you risk paying more and are unlikely to find the best accommodation.
_____
This post contains affiliate links to products and services carefully selected. If you purchase any of them, I get a small commission at no extra cost for you.
Pin for later!