From the sea to the Apennines, amid an ever-changing scenery that gets increasingly beautiful. That is the Cammino di San Francesco from Rimini to La Verna, the new addition to the St Francis Way. An exhilarating long-distance hike.
Over the last few years, I've grown increasingly fond of slow travel, places off the beaten track, and long-distance hikes. That's why I was thrilled to walk the Way of St Francis – Cammino di San Francesco in Italian -, starting in Rimini and leading to La Verna. I got to discover the stunning landscapes of inland Emilia-Romagna. And it's been an incredible experience.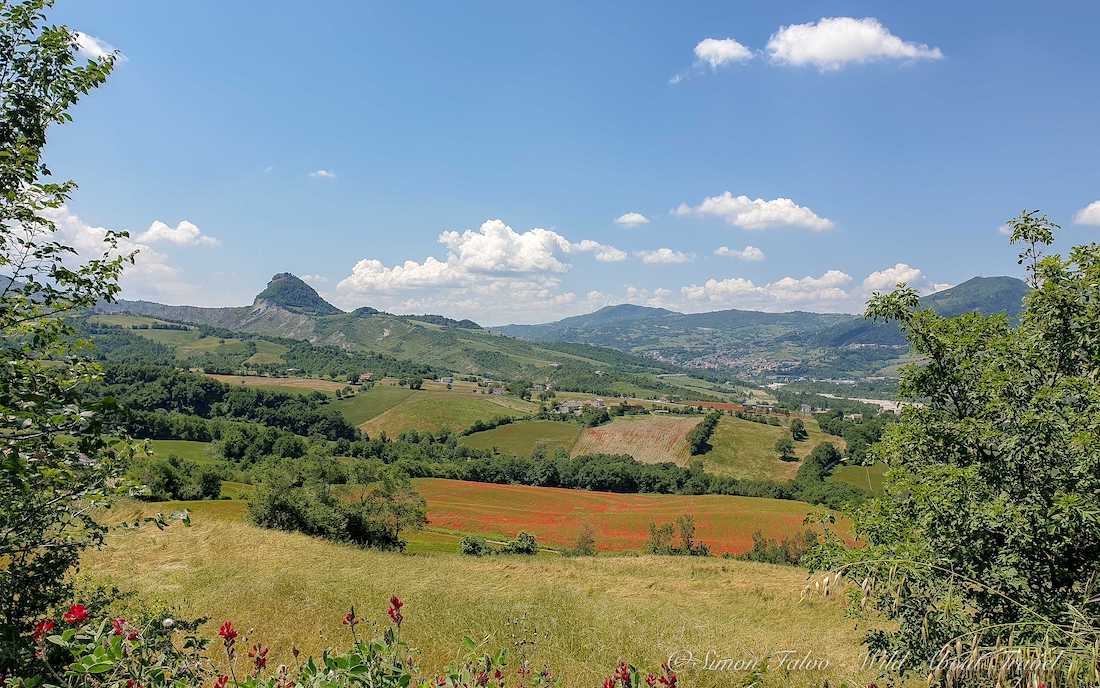 Jump to the relevant section
History of the pilgrimage route
On the footsteps of St Francis
When is the best time to walk the Way of St Francis?
Fitness level
What to pack
Trail signs and directions
Safety
Accommodation
Self-guided trek, or walking with a guide?
Way of St Francis from Rimini to La Verna: Highlights
Day by day itinerary
History of the pilgrimage route
The Way of St. Francis is overall relatively recent. Until not long go, the trail started in La Verna and ended in Rome, passing through Assisi. It's a long-distance pilgrimage route that touches some of the most significant places in the life of Saint Francis.
However, 2013 marked the inauguration of a new route from Rimini to La Verna to celebrate the 800th anniversary of the journey of St Francis in Valmarecchia and across the Emilia-Romagna region. Created by the Association Umana Dimora, this long-distance hike covers 118km (73mi) from the sea through the Apennines, to finally reach La Verna in 5 or 6 days.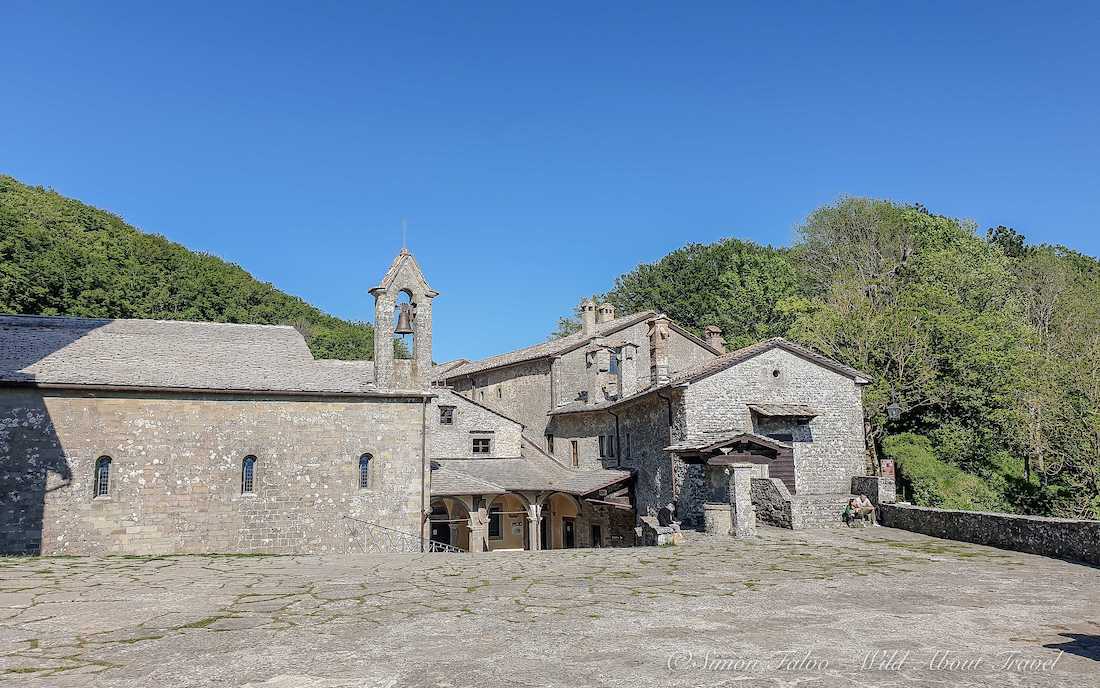 La Verna sanctuary is famous for being the place where St Francis used to spend long periods of spiritual retreat, and where he received the stigmata in 1224. What is lesser-known, though, is that St Francis received La Verna as a gift in Emilia Romagna. When he visited the town of San Leo in 1213, St Francis preached in the square, and his words struck one of the nobles who had gathered to listen to this extraordinary man. Subsequently, Orlando Catani, Count of Chiusi, asked to meet Francis in person. Eventually, he gifted him with the mount of La Verna, which he deemed would be a suitable place for a spiritual retreat.
With this recent addition, the Cammino di San Francesco develops further north from Tuscany to Emilia Romagna. Subsequently, the Way of St Francis overall distance from Rimini to Rome is about 620 km (385mi).
On the footsteps of St Francis
Although the Way of St Francis is a pilgrimage route, you have to know that this is not a path walked by the saint. Like the other stretches, the 118 km trail from Rimini to La Verna connects some of the most significant places visited by San Francesco in Emilia Romagna and Valmarecchia. The events related to St Francis presence and the most relevant locations stem from official sources, as well as from deep-rooted popular tales.
I'm not religious, and I don't believe in God. But St Francis always fascinated me. Aside from the Christian beliefs, St Francis is incredibly inspirational, for he was a man who lived according to the principles he preached. He was undoubtedly driven by an unshakable faith, but also by universal values like love, respect, and humility. That's why he's the Saint who never stopped talking to people across the centuries. And the most loved and respected Saint to date.
Even as a non-religious person, or only from a different faith, walking in the footsteps of St Francis is a journey through history and universal values. Furthermore, you'll get to discover the stunning scenery and enchanting towns along the route.
When is the best time to walk the Way of St Francis?
April to November is the best time to hike the Cammino di San Francesco. Though the trail starts in the sea town of Rimini, it soon reaches the hills up to the highest point, at 1,349 m (4,425 ft). Thus, in winter, the higher elevations might be blanketed with snow. In autumn, you'll have to take into account that days are shorter, and go for an early start.
I hiked a good portion of the long-distance trail the first week of June and was blessed with sunny days, only at times a little too warm in the areas without shade.
As for nature in this area, it's beautiful in Spring, Summer, and Autumn in its way.
Fitness level
You don't have to be a mountaineer, but you still need to be in good physical conditions. The trail is not as easy as the Causeway Coast Way in Northern Ireland, and less challenging than the West Highland Way in Scotland.
Although the trails never get very steep, you'll still climb a considerable amount uphill and downhill. Therefore, I would grade the Cammino di San Francesco from Rimini to La Verna between easy to moderate. Also, keep in mind that you'll walk on average between 20 and 24km (12 to 19mi) per day (this depends if you'll make it in 6 or 5 days). Hence, I would recommend a little training before starting the trail (and any long-distance hike).
What to pack
There are several accommodation options along the way; therefore, you won't need camping equipment. Furthermore, the regulation in Italy on free camping is rather vague. Should you decide to bring your tent, forest rangers might ask you to remove it.
What to pack for a long-distance hike varies depending on your organization. One thing is if you're going to carry everything you need. Another if you rely on a tour operator to book the accommodations and arrange the luggage transfer. That's what I did (plus, I had a fantastic guide), so I could walk with just a light day pack and the essential items for a day hike.
In case you're planning to carry your stuff for the entire walk, I suggest you pack the minimum. You should carefully evaluate what you need to avoid any unnecessary item. After all, you'll have that weigh on your back all the time.
The two most essential items, in my opinion, are the backpack and hiking shoes. The hiking backpack has to be light, comfortable, and breathable. Additionally, it must have load-lifting straps and a waist belt, to shift the weight off your shoulders onto your hips. Last but not least, make sure the backpack has a rain cover. The one I wore while hiking the St Francis Way was not the most comfortable. That's why I ended up buying a new one, and I can tell that my Osprey Sirrus 36 is fabulous and makes a big difference when walking for more than three hours.
Since the Cammino di San Francesco trail is not particularly challenging, technically you don't need hiking boots for ankle support. However, I advise a pair of good trail shoes with a decent grip and in Gore-Tex, in case of rain. I just bought La Sportiva Ultra Raptor Trail Running Shoes and love how they fit. They're lighter than my trekking boots but keep my feet steady and at the same time comfortable.
Trail signs and directions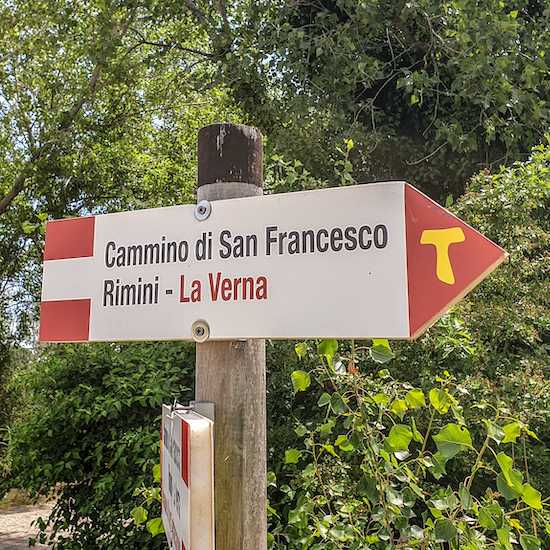 The Way of St Francis from Rimini to La Verna is generally well marked. You can recognize it by a yellow T. This is indeed the symbol of the Tau cross, a sign cherished by St Francis, who used it often as an emblem of Jesus crucifixion. To date, most Franciscans wear a wooden Tau, as a sign of Christian devotion and commitment.
You'll see the yellow Tau mostly on stickers, sometimes with an arrow indicating the direction. In some cases, the symbol might be on trees, or wooden panels, combined with the CAI (Italian Alpine Club) white and red markings.
Beware that the signs only show you the direction, and with only a few exceptions they don't mention the average walking time to a given point.
You can of course also walk the trail the other way round, starting in La Verna and ending in Rimini. However, if possible, I suggest you follow my itinerary, beginning in Rimini and finishing in La Verna. The truth is that the more you go inland and into the Apennines, the more beautiful and scenic the hike becomes.
I love apps (I mean, the good ones); therefore, aside from following the trail signs, I also use the app Gaia GPS. You'll see that the free version provides a decent amount of information.
Safety
There are no particular dangers along the Cammino di San Francesco from Rimini to La Verna. However, especially if you think of hiking the Cammino di Francesco on your own, I recommend you keep in mind a few things:
Make a realistic estimate of the time you'll need to hike every stage. The average times are based on a hiker with medium training, carrying a 12 kg backpack, favorable weather conditions. These estimates do not take into account personal pace (for example, I'm very slow uphill, while I know many people who climb at speed light). Neither do they consider pauses to rest, and possible unfavorable weather conditions. Start early in the morning, to allow enough time to rest.
Bring a lot of water, since there are only a few places where you can get more. Hydration is essential when hiking, especially when it's hot and there's only limited shade. Also, beware that the further you walk inland, the lesser options you get to refill your water bottle.
You're unlikely to bump into many other hikers. While this is an immense advantage because you're really off the beaten track, it also has a downside should have any issue or hurt yourself during the hike. Make sure your smartphone has enough charge to call for help in case of need. The number to dial for a distress call is 118. Even if you don't plan to use it, I suggest you download the Gaia GPS app. Indeed, it will allow you to provide your exact position. Given that I use my phone a lot to take photos and video, I always have with me a power bank to recharge my smartphone if I need to.
Accommodation along the St Francis Way
There are hotels and bed & breakfast where you can overnight in the towns marking the end of every leg. If you're on a very tight budget, you can also stay at convents, usually in shared rooms. However, in that case, you must have a sleeping bag and buy your groceries for breakfast and the other meals. Additionally, you'll have to book in advance.
As for breakfast, don't expect anything like the UK or American style. Italy has some of the best food in the world, but as a meal, breakfast isn't a big deal. You'll generally find a decent choice, though, and you won't starve.
Self-guided trek, or walking with a guide?
You might wonder… What's the best way to walk the Cammino di San Francesco from Rimini to La Verna? Honestly, it's entirely up to you and how you feel more comfortable.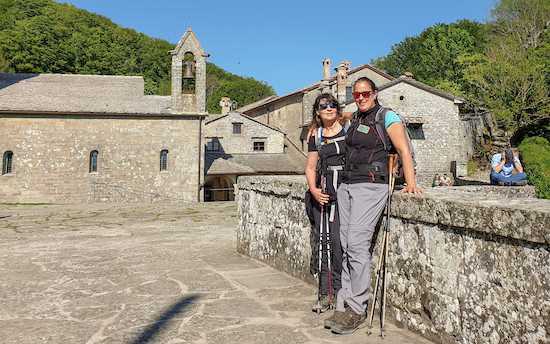 You can certainly make the hike the Way of St Francis on your own. However, you should take into account that you'll likely meet very few hikers along the way to ask for directions or information.
Even if you prefer a self-guided hike, I would recommend contacting a Tour Operator to book the overnight stays and transfer your luggage. The days are long, and you'll undoubtedly be more comfortable carrying only a small day backpack. Furthermore, a Tour Operator can also arrange car transfers if you want to shorten one or more stages.
Most of the times, I hike alone. Usually on day hikes, or for a couple of days. And did a few self-guided long-distance treks, like the Architecture Path in Vorarlberg, Austria, where the accommodations were booked, the luggage transferred, but then I waked at my own, slow, pace, often taking short breaks for pictures.
Hiking the Way of St Francis was the first time I had a guide, and while I was a little worried at first, it ended up being a fantastic experience. Alessia, my guide, knows very well the area and she told me a lot of exciting things about nature. It was nice to chat along the way, and we also spent time just enjoying the silence, without feeling embarrassed. She started being a guide and ended becoming a friend.
You can contact Appennino Slow; a Tour Operator specialized in trekking tours in the Apennines. Additionally, you can also get in touch directly my guide Alessia Ghirardi, who can organize the entire trek or a shorter version.
Way of St Francis from Rimini to La Verna: Highlights
 
 
Start: Rimini (5m / 16ft)
Arrival: Chiusi della Verna (954m / 3,130ft)
Length: 118 km / 73mi
Number of hiking days: 5 (can also be done in 6 days)
Total uphill elevation gain: 3,949m / 12,956ft
Total downhill elevation loss: 3,000m / 9,843ft
Highest elevation: Valico Monte Fiumaiolo 1,349m / 4,426ft
 
 
 St Francis Way from Rimini to La Verna: day by day itinerary
I walked the Cammino di San Francesco from Rimini to La Verna following the 5-day route, although I covered some parts by car. That's an option you might want to consider especially on the first day, as well as to shorten the last long leg on day 5. Here's a day by day guide.
Day 1: Rimini to Villa Verucchio
The Way of St Francis starts at Rimini train station, although you won't find any gate or monument marking the official beginning of the trail. On the first day, you'll leave the city and the sea behind, and head towards the hills inland.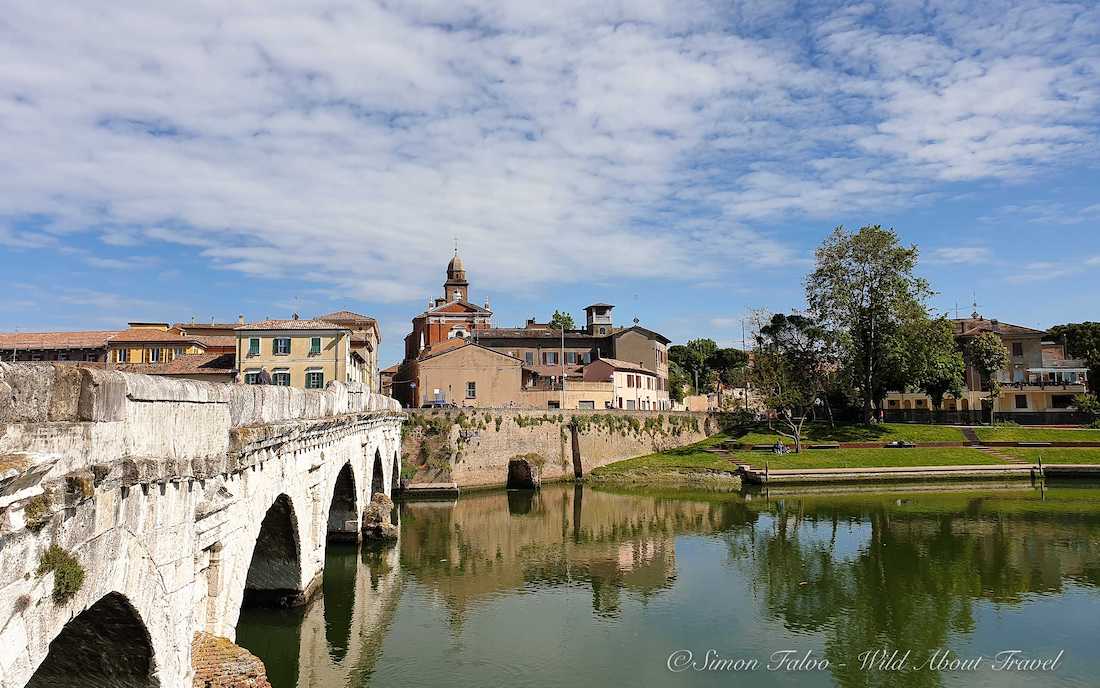 Actually, I started walking in Vergiano, after a short stop at the Franciscan sanctuary of Santa Maria delle Grazie. To tell the truth, since a good portion of the first 10 km (6.2mi) is on paved roads, I suggest you instead spend a couple of hours in Rimini. It's worth visiting the old town and its main landmarks, and then have a transfer to Vergiano. From Vergiano, the trail (which is also a bike path) follows the Marecchia River. The terrain is flat and the walk easy. The only downside is that there's no shade so that it might get quite hot in Summer.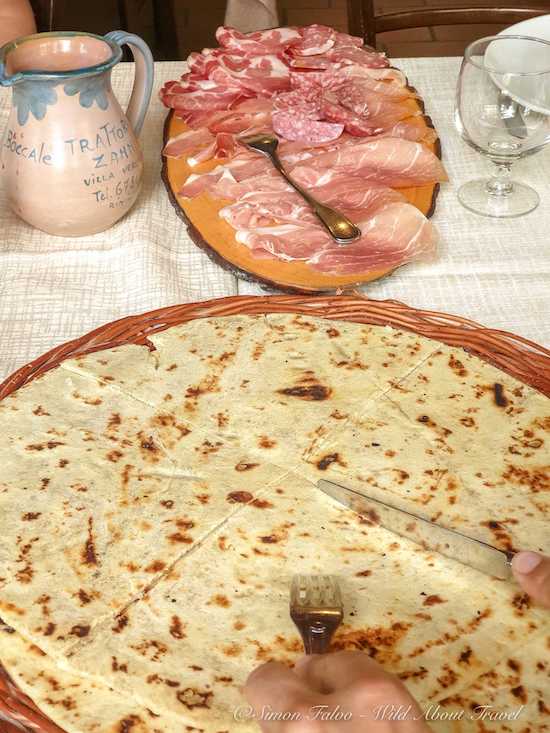 That first part of the Cammino di San Francesco in Emilia Romagna is pretty but honestly, nothing special. Don't feel discouraged, though. It's quite reasonable on a long-distance hike that some stretches are more scenic and rewarding than others. Trust me, day after day, the St Francis way gets better and better.
Anyway, we reached Villa Verucchio in time for a late lunch, having some of the most delicious local food specialties. Casa Zanni is one of those places that it's almost impossible not to love as soon as you step in. Imagine being welcomed by a large oven where a lady is cooking piadina – the typical flatbread -, emanating the most delicious smell, in a charming countryside decor.
Alessia, my hiking guide, Franco and Marco from Umana Dimora, and I sat at the table and enjoyed a simple but oh-so-delicious lunch. How not to love a home-made piadina with different types of cold cuts washed down with a glass of red wine of the area?
In the afternoon, we visited Verucchio (which indeed is on the way of day 2), an enchanting medieval hamlet perched atop a hill. Not only Verucchio is one of the most beautiful towns in Emilia Romagna, but it also hosts a fascinating archaeological museum. There, you can admire superb artifacts of the ancient and little known Villanovan culture (900 B.C.-700 B.C.).
In between Villa Verucchio and Verucchio stands the Franciscan Santa Croce convent. It doesn't take much to see it, but it's worth making a short break. According to the legend, St Francis would have planted here a wooden stick, which then transformed in the 700 years old cypress which now adorns the lovely cloister. Inside the church, you can also admire a stunning fresco from the 14th century, representing the crucifixion.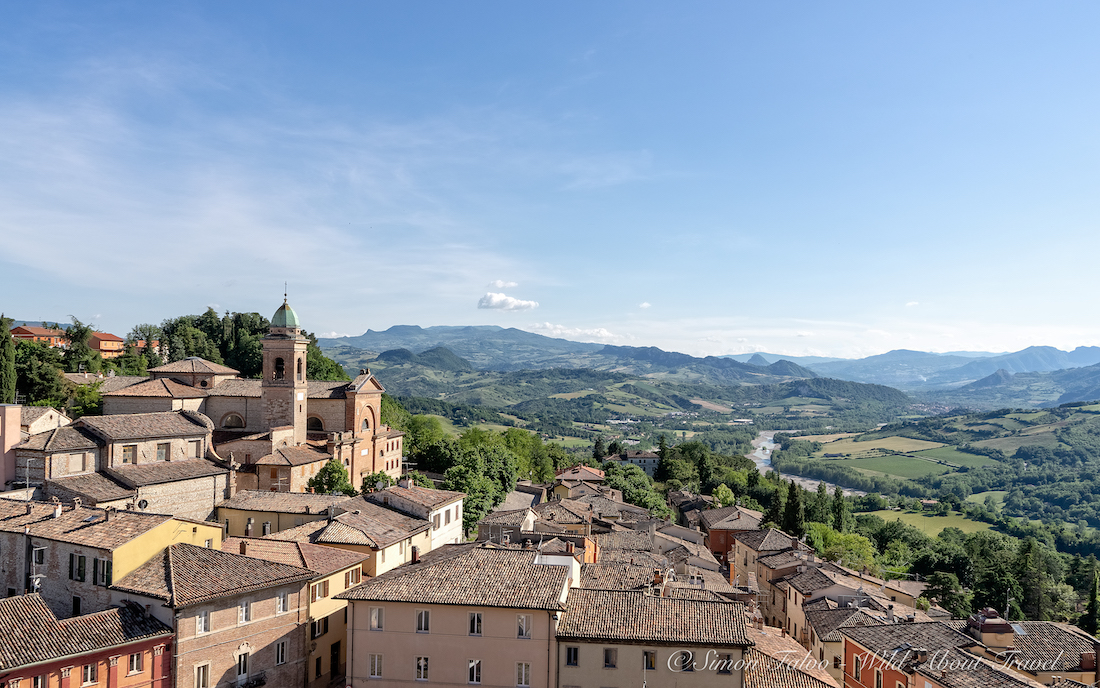 Accommodation in Villa Verucchio
I stayed at Agriturismo San Rocco, which is a little our of the way but boasts enchanting views. Check more accommodation options in Villa Verucchio.
Day 2 – Villa Verucchio to San Leo
We reached by car Ponte Pietracuta, some 12 km (7.5mi) from Villa Verucchio and started our hike from there. If you walk the entire leg, don't miss to pop into the Convent of Santa Croce and to have a short stroll in Verucchio. The view from the Rocca Malatestiana is gorgeous. From Verucchio, after a short hike downhill, the trail is almost flat and again borders the Marecchia River.
The landscape becomes more undulated, with smooth hills and, here and there, steep rocks standing out against the blue sky. The week before the rain poured down abundantly, so the fields are a bright emerald green. Further down, we spot large patches of red made by thousands of poppies. We can't help stopping to take photos of this idyllic landscape.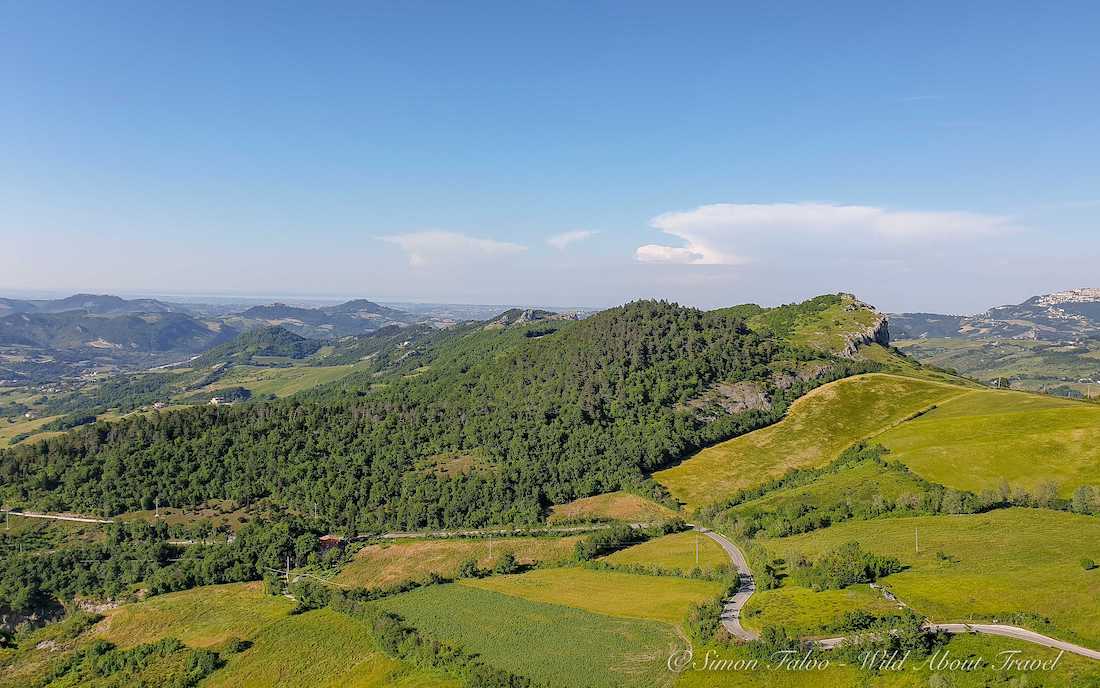 After a few kilometers, the path starts to climb uphill. We're getting more and more into the Apennines, and I wonder why I never thought of hiking in this beautiful area before. Our destination today is San Leo, but before we get there, we take the opportunity for a break and visit the Sant'Igne Franciscan convent. The simple, Romanesque external architecture reflects St Francis values. And the cloister with its 20 octagonal columns, is delightful.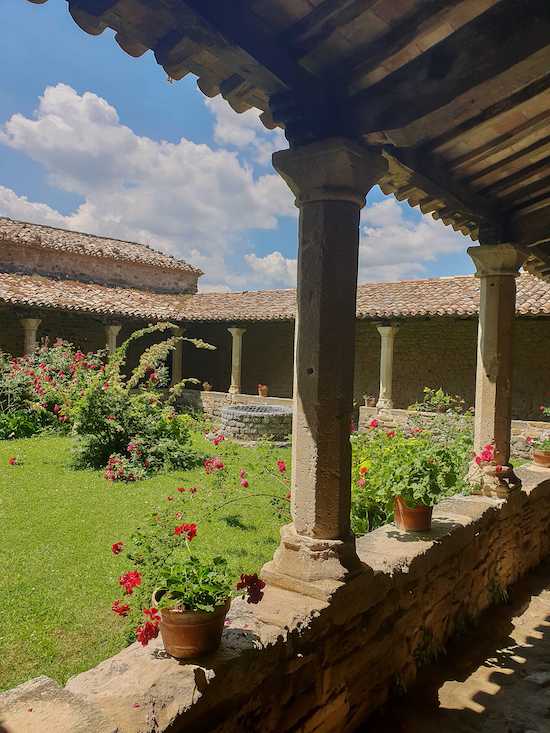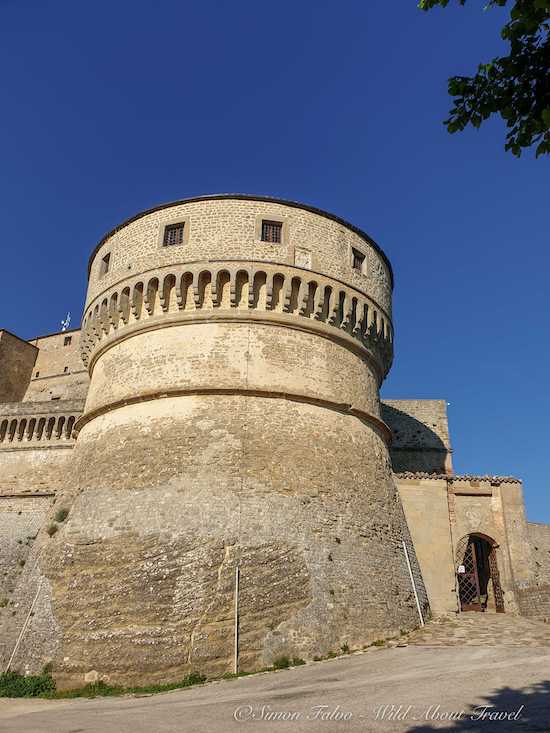 After a final climb uphill, we eventually reach San Leo. Another beautiful town, built on a steep rock and overlooking the rolling hills. Actually, San Leo is one of the reasons the Cammino di San Francesco from Rimini to La Verna was created. St Francis visited San Leo in 1213 and here the Count Orlando Catani di Chiusi, impressed by Francis' sermon, donated him the La Verna mount.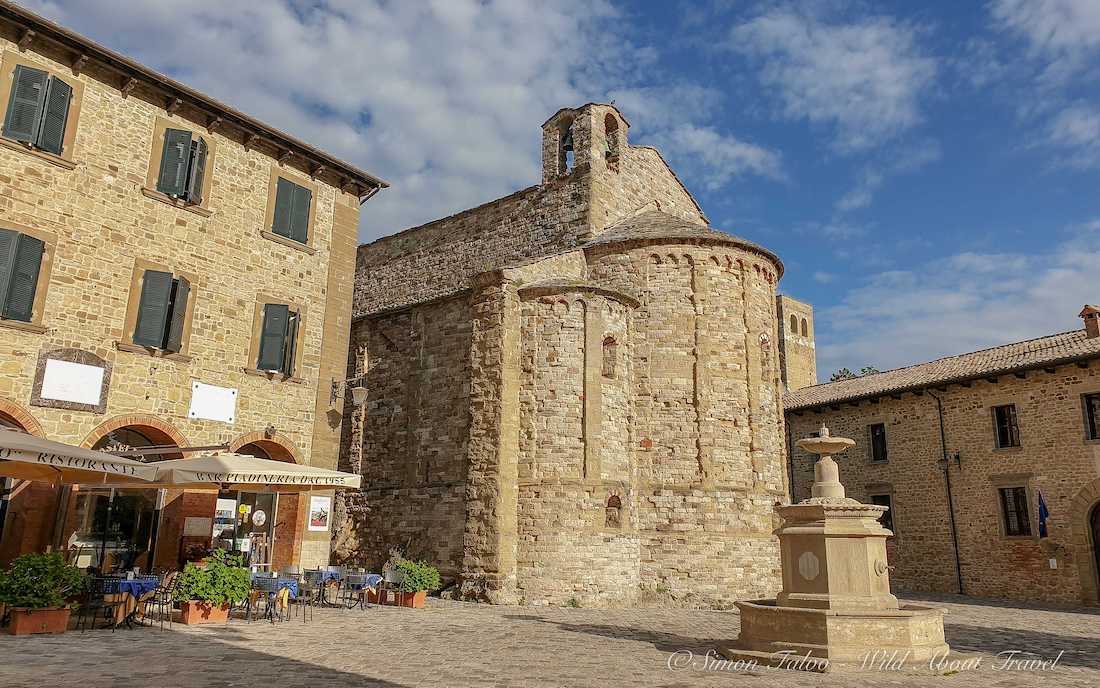 Luckily, we arrived early enough to slowly stroll in the town, relax at one of the cute cafes, after which we walked up to the fort, on the top of the limestone cliff. The fortress is nothing short of imposing, and it's easy to imagine that it was almost unassailable.
Accommodation in San Leo
I stayed at the fantastic B&B Montefeltro, right in the center of San Leo. Check more accommodation options in San Leo.
Day 3 – San Leo to Sant'Agata Feltria
Although the third leg of the Way of St Francis is slightly shorter, there are elevation gains and losses. Basically, we have to hike down back to the Marecchia valley and then climb up on the opposite ridge.
The evening before with Alessia, my guide, we decided for an early start to be able to walk without rush, allowing plenty of time to take photos and to take in the landscape. After a generous and delicious breakfast, including fresh fruits and home-made cakes, we set up to leave. But first, a short walk in the center of San Leo, to admire it in the early morning light.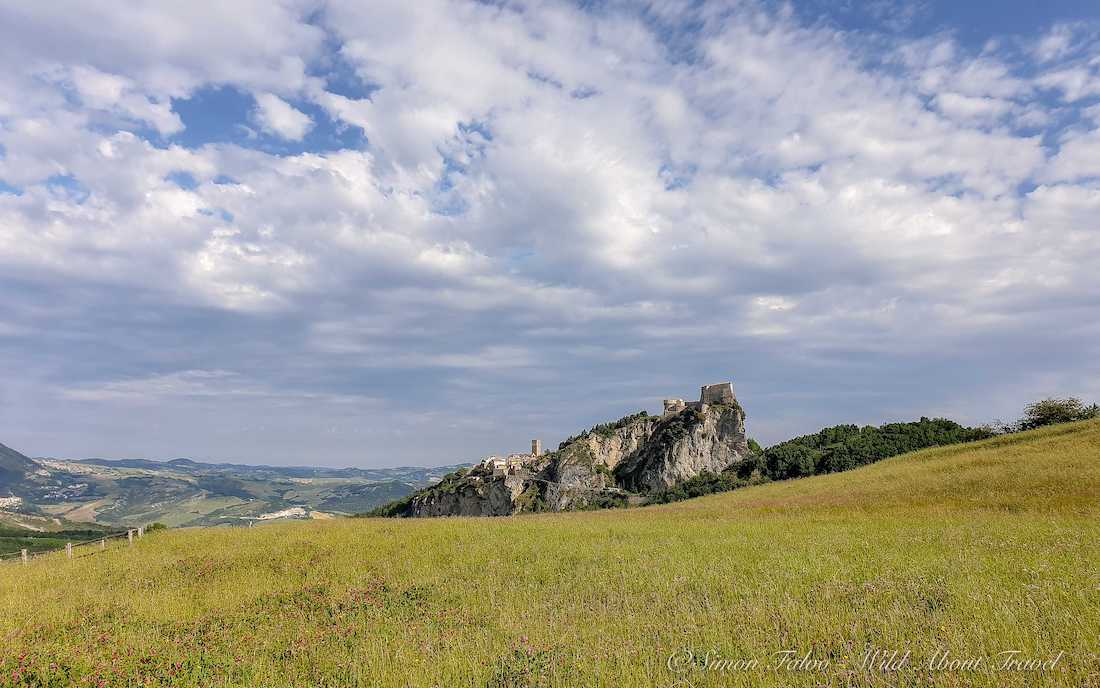 We start our walk, and it looks like San Leo doesn't want us to forget how beautiful it is. For a long while, the sight of the town and the fortress perched on the steep cliff follows us. Seen from a distance, San Leo is all the most impressive. The view of the rock that seems to have emerged from the earth is magic.
As we hike further, the scenery becomes wilder and more intriguing. When I thought the landscape could hardly get more beautiful, we reached the clay ravines of Maioletto. Simply jaw-dropping. This stunning area is also potentially treacherous in case of heavy rain. Should this happen (hopefully not, because you would miss an awe-inspiring landscape), I suggest you ask for information in San Leo. In case of adverse weather conditions, they'll suggest an alternative route. A long-distance hike must be fun, and there's no reason to take unnecessary risks.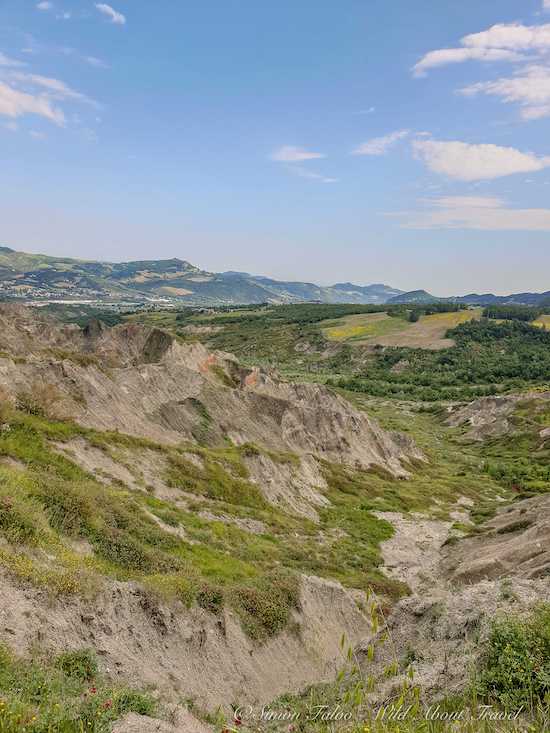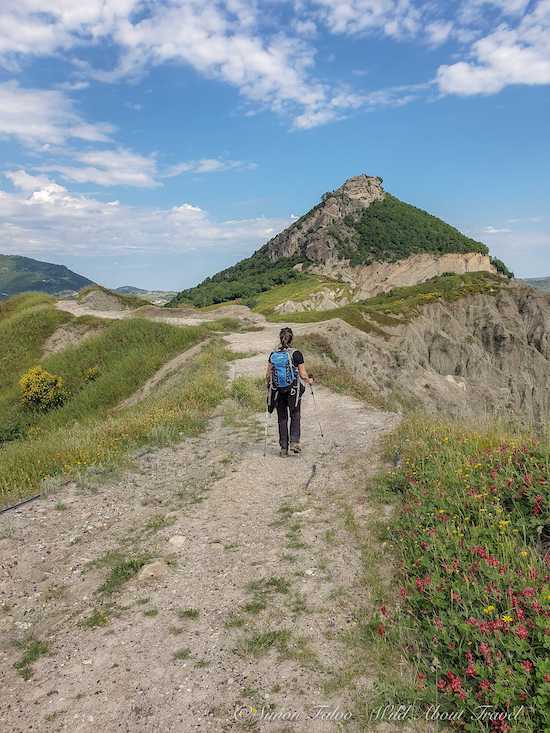 In Novafeltria, at the bottom of the valley, we take a break before facing the climb uphill. The first stretch is one the main road (which is never much fun), but the path soon continues on dirt roads. Surrounded by lush meadows and colorful wildflowers, we reach Botticella, the highest point at 786m (2,487ft). One last effort, a little more than 2km (1.2mi) downhill, to reach our destination, Sant'Agata Feltria. As we approach, the town emerges from the meadows, with the castle towering top the hill.
It's been a long day, and I feel tired but unbelievably happy. I just loved day 3 of the Cammino di San Francesco.
Accommodation in Sant'Agata Feltria
I stayed at the Falcon Hotel, which is a little out of the center. Check out more accommodation options in Sant'Agata Feltria.
Day 4 – Sant'Agata Feltria to Balze
Alessia and I got an early morning start to get a stroll in Sant'Agata Feltria. We popped in for a short visit of the charming small Teatro Mariani, in the town's main square. The theatre, entirely built of wood and beautifully decorated, is a jewel and since it doesn't take long, you shouldn't miss it. We then walked to the fort, of medieval origins and restored during the Renaissance. The town, bathed in the early morning sunlight, is beautiful. Aside from a few locals going to or attending their daily work, there was not a soul. That's indeed Italy off the beaten track, one of those hamlets where you get to feel the authentic life and soul of the country.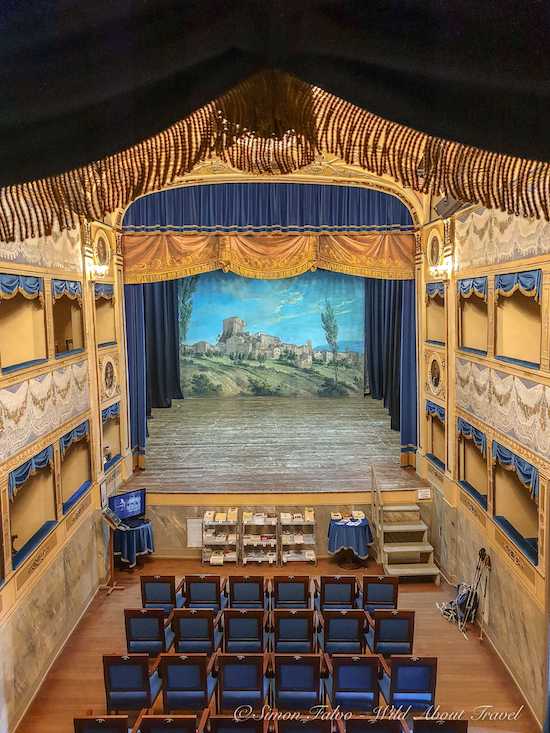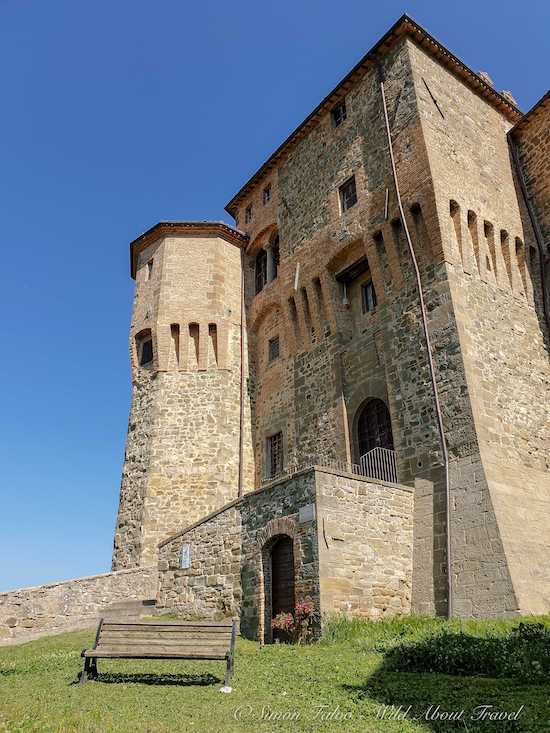 We followed an alternative route to Madonna di Foscarino, walking amid a rural area and stopping a couple of times to talk with local farmers. Indeed, one of the many reasons to walk the Cammino di San Francesco is the people you meet along the way, their warmth and genuine interest.
As planned, we met Stefano and Francesca who manage Appenino Slow and organized the hike. After the long day 3, this is a half-resting day, with hiking limited to the most scenic areas. We drove to the Sant'Alberico Hermitage, set deep in the woods in a dreamy location. We're now at a higher altitude (1,079m / 3,540ft), and the landscape is less pastoral and more alpine. Along the winding road, we spotted another big field of bright red poppies and couldn't help making a small diversion to admire them and take photos.
From Sant'Alberico, a beautiful path in the beech trees forest leads to Balze, the arrival of day 4 of the St Francis Way. Leopold II, Grand Duke of  Tuscany (1797-1870) created the trail as a sign of gratitude for a pardon he received.
We gather around a table at a local trattoria for lunch, and got close and personal with the generosity of this area of Emilia Romagna. The portions of homemade pasta at Balze Ghiotte are simply enormous, and emptying the dish is a real challenge.
A short sidewalk to the Tiber first waterfall
In the afternoon, we got off to the source of the Tiber (the river crossing Rome) and the beautiful first waterfall. That's an addition to the hiking trail, but it's worth to get there. The walk takes about 45 minutes each way, but if you're tired, ask the people at your hotel who will gladly arrange transfer by car.
We settled at Hotel Bellavista, where we had the best surprise (aside from the swimming pool and the lovely views). Silvio, his wife and daughter run the hotel in summer (they are otherwise farmers) and they are the more hospitable and welcoming people I ever met. Silvio knows every hidden corner of the surrounding area and is happy to share his knowledge. His wife and daughter were lovingly preparing an incredible amount of small tortellini (hand-made filled pasta, served in broth) for a group having a party during the weekend. I spent some time looking at them, fascinated by their ability and the passion radiating from them.
They welcomed us with such warmth that we felt like visiting family, even though we met for the first time only minutes earlier. I visited Emilia Romagna several times, and know about their hospitality, but here we felt the quintessence of the unique generosity of the people from this region. Food, of course, plays a vital role, since in Italy it's a love affair, as well as the pleasure to gather and share special moments. Emilia Romagna food specialties are a pleasure for the eyes and… a joy for the belly.
Accommodation in Balze:
I spent two nights at Albergo Bellavista, where I enjoyed the warmest hospitality ever. Check more accommodation options in Balze.
Day 5 – Balze to La Verna
The last leg has one of the steepest ascents of the Way of St Francis from Rimini to La Verna. That's why, since I was a bit tired and I'm unquestionably slow when walking uphill, we took a shortcut. I would have liked to hike it all, but the entire leg was likely too much for my slow pace. Not to say that I wanted to have some time to visit the La Verna Sanctuary properly. Therefore, Silvio, the hotel owner, kindly drove us to Verghereto, at the start of the trail leading up to Poggio Tre Vescovi.

I started the last leg feeling both excited and a little sad. I was loving the Cammino di San Francesco every day more, having a fantastic time with my guide Alessia, and would have loved to hike longer. The landscape did also play a significant role. The more we adventured inland in the Apennines, the wilder the scenery. Those who know me are aware that I love wild and isolated places, where you barely meet another soul and feel like one and (almost) the same with nature. I like being surrounded by only the sounds of nature: chirping birds, cracking dry trees, the soft whistle of the breeze, and the murmuring leaves.
The path goes through the woods and the meadows until we reach Poggio dei Tre Vescovi (the Hills of the Three Bishops 1,238m / 4,062ft), which marks the border between Emilia Romagna and Tuscany. The view from there is breathtaking. Not a single house, even small. Only nature.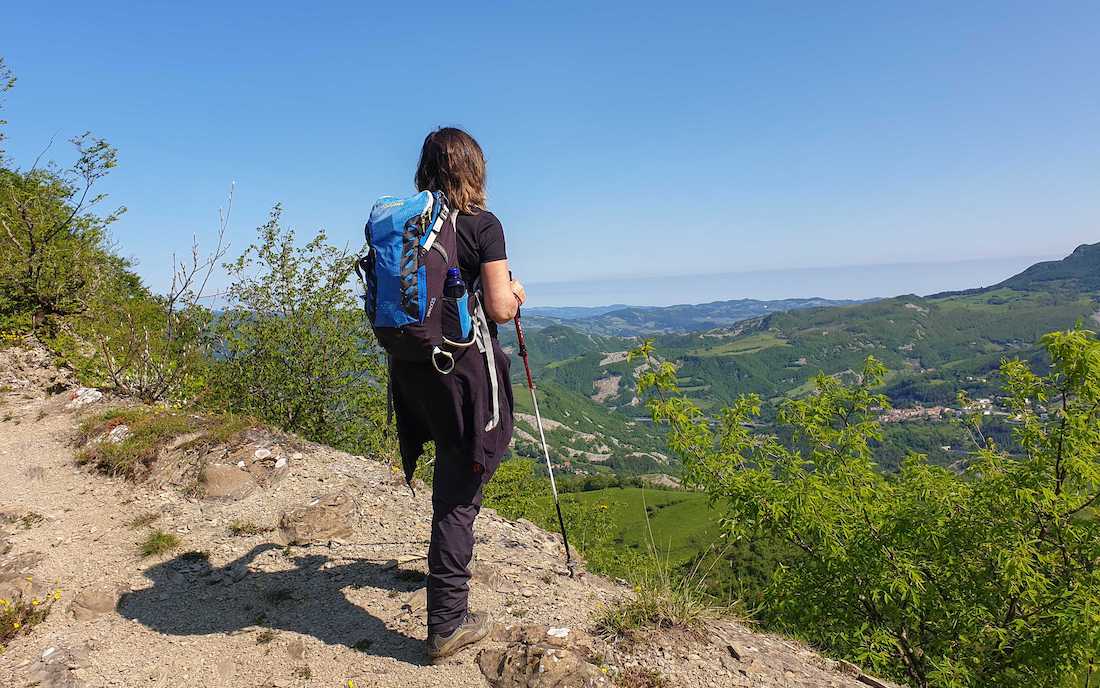 Alessia, my guide, who walked this trail several times, says that we're incredibly lucky with the weather. A perfect azure sky surrounds us as we reach the ridge, an area which is more often than not shrouded in clouds and fog, and swept by the wind. After a short break to take in the wondrous scenery, we grab our hiking poles and continue our walk. The trail first goes a little downhill, followed by the last effort uphill to reach Monte Calvano. From there, we start the 2 km (1.3 mi) descent to the La Verna Sanctuary. That's our final destination although, technically, the Cammino di San Francesco ends in Chiusi della Verna.
La Verna is the mount which St Francis received as a gift in San Leo, the place where he went several times to retreat and pray. In La Verna, St Francis received the stigmata at the end of the summer in 1224. With the Basilica, the convent and the other religious buildings, La Verna certainly looks very different from the modest location where St Francis liked to retreat. It is, nonetheless, beautiful and poignant.
I could hardly have imagined a better way to finish a long-distance hike. And I can't help thinking that our destination, La Verna, is also the start of another stretch of the St Francis Way. This one down to Assisi and even further to Rome.
Having reached the end of this long-distance hike, I'm sure about one thing. The Cammino di San Francesco from Rimini to La Verna truly surprised me, with its superb landscapes, charming villages, and welcoming people. If you want to travel slow, savor every moment, and discover Italy off the beaten path, you should spend some time in this incredible area.
______
Note: This post is the result of a paid collaboration with iambassador and Emilia Romagna Turismo. While the objective is clearly to promote slow travel and lesser-known destinations in this beautiful region, all opinions (and amazement) are mine. The post also contains a few affiliate links. If you do any booking or purchase, I get a small commission at no extra cost for you.
Pin for later!