If you want to explore Italy off the beaten path, you'll love these beautiful towns in Emilia Romagna. They're indeed charming and well worth to spend a day. You'll discover another, more authentic, side of Italy.

There are many reasons to love Emilia Romagna. The region boasts some of the most amazing cities in Italy, like Ravenna and Ferrara. Emilia Romagna is also the land of the Food Valley, the area around Parma famous for Parmigiano Reggiano, Parma ham and other incredible food specialties. And the people are super friendly and welcoming.
Emilia Romagna is also famous for anything related to motors (Ferrari, Lamborghini, Ducati, and more). And the region's stretch of Adriatic coast has long been a popular beach destination, starting from Rimini.
As if this wasn't enough, there are plenty of beautiful small towns in Emilia Romagna, full of charm and off the beaten path. These are undoubtedly the places to go if you want to get a taste of authentic Italy.
Where is Emilia Romagna?
Emilia Romagna is a region in northern Italy, which extends from the Po River (marking the southern edge of Lombardy) to the Apennines and the Adriatic Sea.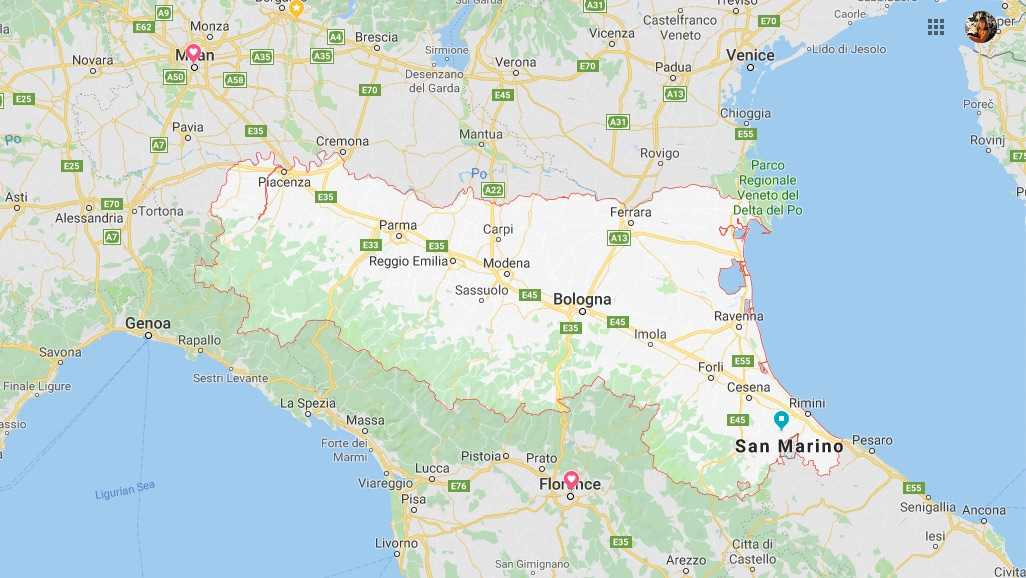 Due to its geographic position, the landscape of Emilia Romagna is quite varied: plain, hills, coastline, and mountains. Bologna, the capital city of the region, is in between Milan and Florence, as well as almost halfway from Venice to Florence.
Why you should visit the beautiful towns of Emilia Romagna
Actually, over the years, I found out that everywhere in Europe and most parts of the world, it's in small cities and tiny hamlets that I had the most memorable experiences. In Shimshal, a small village in an isolated valley of northern Pakistan, I had the privilege to be hosted in local houses, learning about their traditions. Also, I fell in love with Corte and other charming hamlets during my road trip across Corsica. And I could mention many more.
The beautiful towns in Emilia Romagna are no exception. Here are some of my favorites, where you'll have a wonderful time.
Brisighella
I first visited Brisighella a few years ago as a day trip from Bologna. I instantly fell in love with this charming medieval town, its colorful houses, the castle perched atop a steep hill overlooking smooth, verdant hills.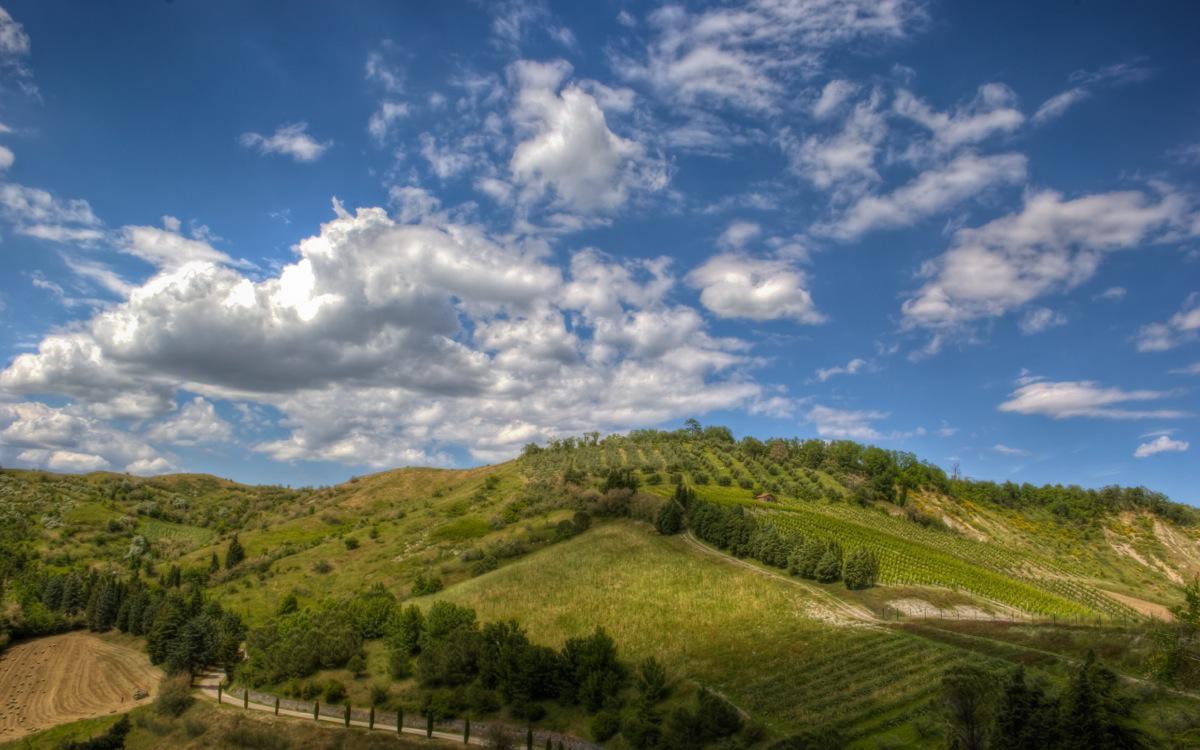 So, I went back and spent a couple of days in Brisighella, allowing myself more time to explore the town and its surroundings and go for a hike nearby. Anyway, if you only have one day in Brisighella there are a few things you should do:
Hike up to the fortified Castle (La Rocca) and the Clock Tower, to admire the architecture and, most of all, to get fantastic views of the surrounding hills
Stroll in the center, enjoy the colorful houses and have a drink or lunch al fresco
Walk the "Donkeys' Alley", a fascinating walkway dating back to the 14th Century. You don't often get the chance to go through a path covered by houses, once inhabited by carters carrying gypsum on their donkeys. Hence the name of the alley.
Taste the local food specialties, like spoja lorda, a local hand-made filled pasta, Moretto artichoke, a variety which only grows in the shrubs surrounding Brisighella, and Brisighello extra-virgin olive oil, produced from a local variety of olives.
Getting there:
You can get from Bologna to Brisighella by train via Faenza (sometimes it's train+bus, depending on the schedule). The journey is about 1 hour/ 1 hour 15 minutes. Check the timetables and buy your ticket -> HERE
Where to stay in Brisighella:
Have a look at some of the best places to stay in Brisighella.
Comacchio
Canal cities and towns always hold a unique charm. With its magnificent buildings, Venice is the canal city par excellence, in Italy and the world. Conversely, tiny Comacchio strikes for its simple, colorful houses, mirroring in the narrow canals.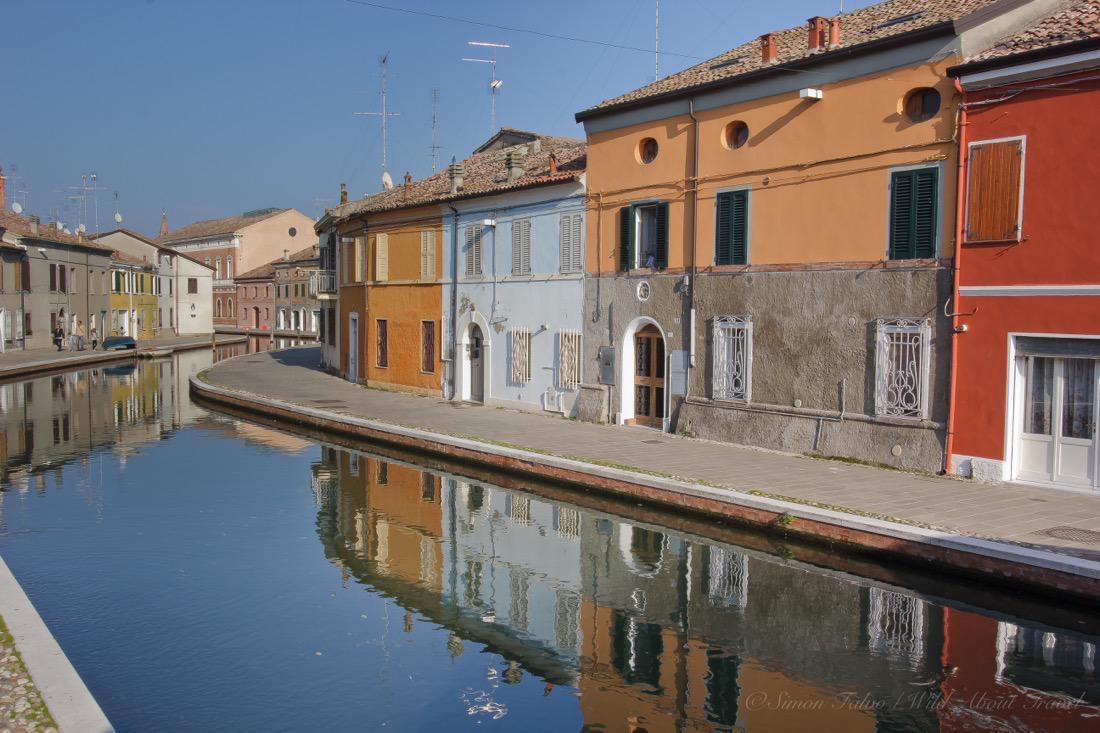 Located on a lagoon of the Po delta, not far from Ravenna and Ferrara, Comacchio was built joining together thirteen small islands and developed across the centuries around its primary resource: water. Except for a few houses, the architecture is simple but lovely. After all, for centuries Comacchio's economy was based on fishing (the town is famous for marinated eels) and salt manufacturing, thus the humble lifestyle.

Although this lovely town may not showcase the wealth and splendor of the Venetian palaces, it is incredibly picturesque. And especially if you visit on a weekday in the shoulder season, you'll likely meet just local, and no more than a handful of tourists.
How to get to Comacchio
Public transport to reach Comacchio is minimal, not to say close to non-existent. Aside from a few buses in Summer, you'll need a car (Check here for the best car rental fares).
The nearest cities in Emilia Romagna are Ravenna (32km, 20mi), Ferrara (50km, 31mi) and Bologna (91km, 56mi).
San Leo
I quickly visited San Leo a couple of years ago, on the way back from San Marino. I only had a short time, the sky was grey, and the rain was generously pouring. Notwithstanding, I instantly fell in love with this charming town, and I knew I would be back.
I eventually got the chance to revisit while hiking the Cammino di San Francesco, a fantastic long-distance walk from Rimini to La Verna. One of the stages ends in San Leo, and the reward of the day was discovering what is considered one of the most beautiful hamlets in Italy.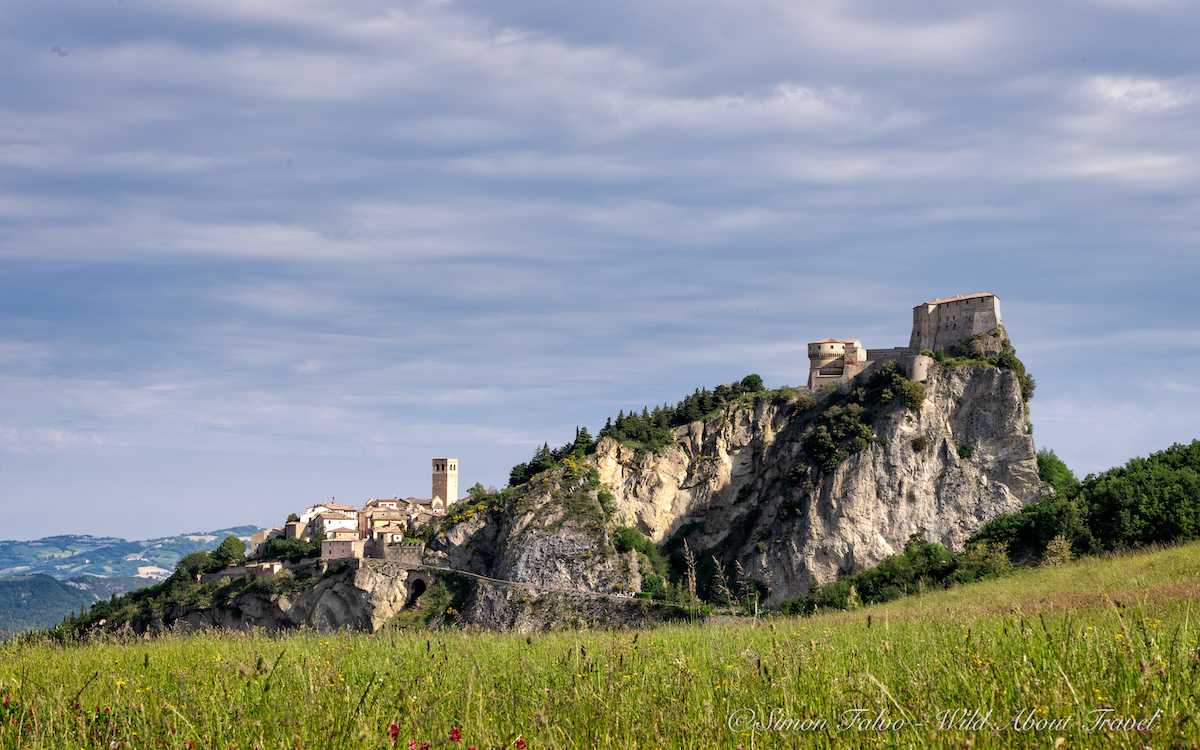 San Leo is perched on a big rock plunging steeply to the underneath Valmarecchia. On the top of the rock towers the Fort, built in the Middle ages and redesigned in the 15th century according to Federico III di Montefeltro wishes.
My advice is to discover San Leo slowly, savoring the town as if it were a glass of precious wine. Wander along the cobblestone alleys, visit the parish church and the cathedral, explore the fortress, chill out sitting at one of the al fresco cafes. And if you get the chance, I suggest you overnight. In the early morning hours, bathed by the soft light of the rising sun, San Leo is more beautiful than ever.
How to get to San Leo
The easiest way is to get there by car. San Leo is about 32 km (20 mi) from Rimini, and the ride takes around 45 minutes. Check here for the best car rental fares.
You can also reach San Leo from Rimini by bus, although you'll have to change in Pietracuta. The journey is a little more than 1 hour, and there are only a few rides per day. Check the timetables of bus 160 from Rimini and bus 102 from Pietracuta.
Where to stay in San Leo
I spent the night at the lovely Montefeltro B&B, right in the center. Recently refurbished, with comfy beds and a fantastic shower, the B&B also serves an excellent breakfast.
Check -> More accommodation in San Leo.
Porretta Terme
A pretty village in the Apennines, on edge between the Emilia Romagna and Tuscany regions, Porretta Terme will give you a taste of local life. If you want to discover Italy off the beaten path not far from Bologna, in Porretta Terme, you're not likely to meet more than a handful of foreign tourists, if any.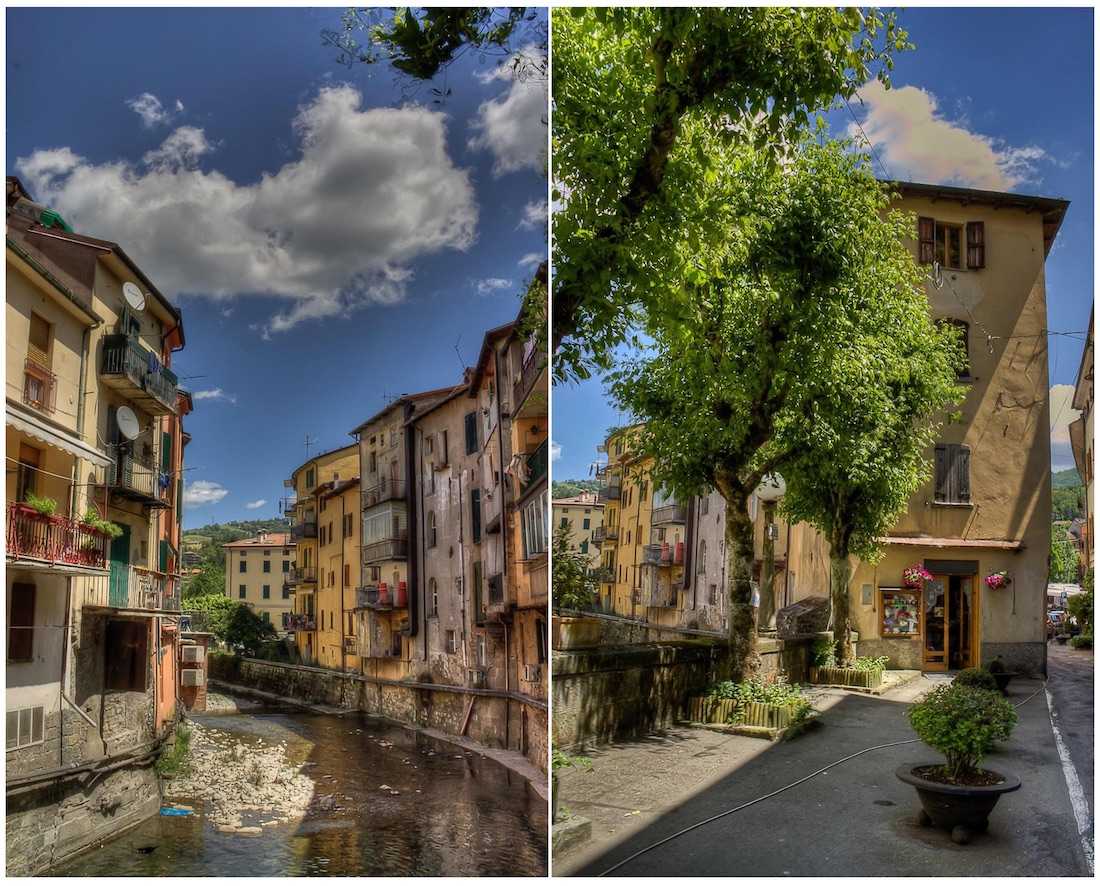 Known since the Romans for its healing hot springs, Porretta Terme lost some of its appeal as a thermal destination. Nonetheless, it's one of the many beautiful towns in Emilia Romagna, only one hour from Bologna.
Additionally, the journey to Porretta Terme is a scenic train ride on the Porrettana, an old railway dating back to 1864 and the first one riding across the Apennines. Nowadays it's a minor rail line, with old and uncomfortable carriages, but that's part of its charm. And the landscape is lovely.
Getting there:
There are frequent trains from Bologna to Porretta Terme (1 every hour), and the journey lasts 1h 1min. Check the timetable and buy your tickets -> HERE.
READ ALSO: Porretta Terme: Charming town, hot springs, and a scenic railway
Verucchio
Verucchio is another delightful hamlet which I discovered when I walked the St Francis Way, from Rimini to La Verna. Like nearby San Leo and San Marino, Verucchio sits atop a steep hill, overlooking the undulating Valmarecchia.
The history of Verucchio goes back a long way. Indeed, this area was a settlement of the ancient Villanovan culture, dating back to the years 900 B.C.-700 B.C., before the Etruscan civilization.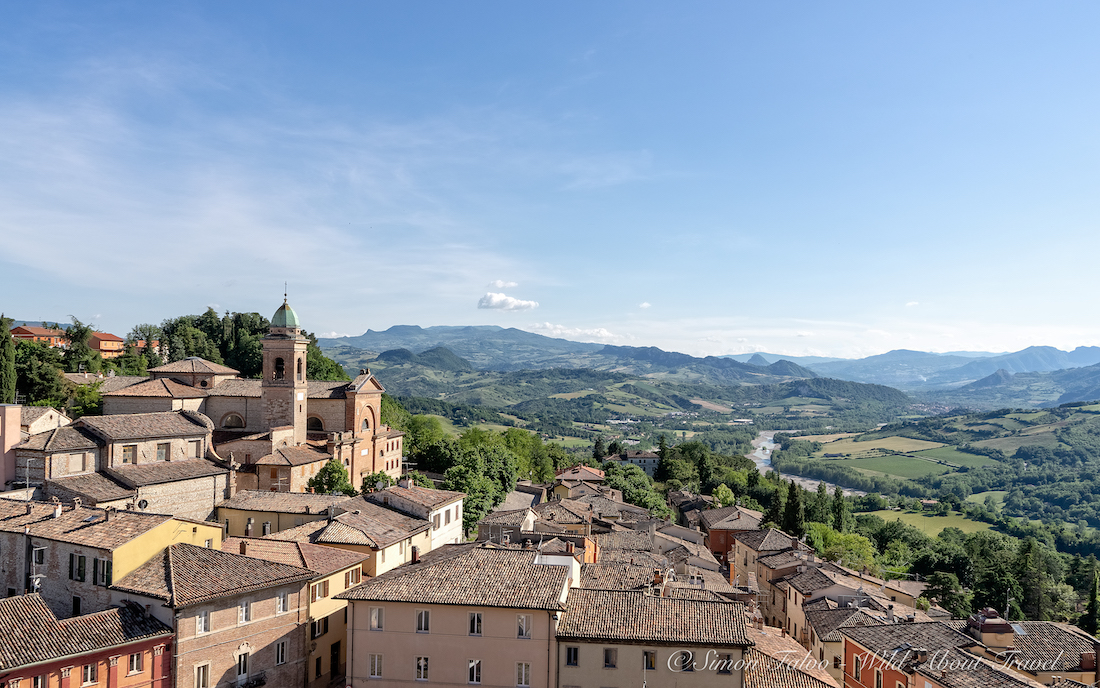 A tiny medieval hamlet, Verucchio is a little jewel. It doesn't take long to explore it, and you can visit on the way from Rimini to San Leo since it's almost half-way. Don't miss the Rocca Malatestiana, a beautiful fortress built between the 12th and 16th centuries, and the Archaeological Museum, displaying stunning Villanovian artifacts.
Getting there:
Verucchio is about 18km (11mi) from Rimini, and the best way is to get there by car. Check here for the best car rental fares. Otherwise, you can travel by bus 160 from Rimini.
Castell'Arquato
Hold your breath and get ready! Castell'Arquato is undoubtedly one of the most beautiful towns in Emilia Romagna, if not in Italy. Since it's only 100km (62mi) from Milan, I've been there time and again and believe me, it always takes my breath away.

Castell'Arquato is a beautifully restored town and a little gem. There, you'll see superb examples of medieval architecture, as well as buildings from the Renaissance.
While you stroll, don't miss the jaw-dropping Piazza Municipio, a superb medieval square, hosting the Town Hall (Palazzo del Podestà) and the Paradise Porch (Portico del Paradiso). Head to the Rocca Viscontea, the military fortress built in the mid 14th century, and climb the tower. The view of the town and the surrounding gentle green hills is nothing short from lovely.
Finally, I suggest a lunch break to taste the local specialties. A must is Gnocco Fritto, a light fried dumpling, filled with local cold cuts. In case you're vegetarian you'll love Caramelle alla Piacentina: in essence, hand made egg pasta filled with ricotta cheese, spinach, and cheese, topped with melted butter and sage.
How to get to Castell'Arquato
Castell'Arquato is a little out of the way, and it's by far easier to get there by car (Check here for the best car rental fares.). From Milan, the ride is about 1h 30 min, while from Bologna you should count 1h 45 min. The closest city in Emilia Romagna is Parma (a must for food lovers!), about 1-hour ride.
Getting there by public transport is a little more complicated and slightly longer, but possible. In that case, you'll need to take a regional train to Fiorenzuola, and then the E43 bus.
Where to stay in Castell'Arquato
If you feel like spending a night in Castell'Arquato, a good choice is Casa del Podestà. The guesthouse is located in the center and combines ancient and contemporary furniture that give it a unique flair. Check-out more accommodation options.
Ultimately, I'm pretty sure you'd fall in love with these beautiful towns in Emilia Romagna, wouldn't you?
_______
Note: I visited several towns in collaboration with Emilia Romagna Turismo and iambassador. However, all views and opinions are mine. This post also contains a few affiliate links to products or services I personally use, or I trust. If you make a purchase, I get a small commission at no extra cost for you.
Pin for later!