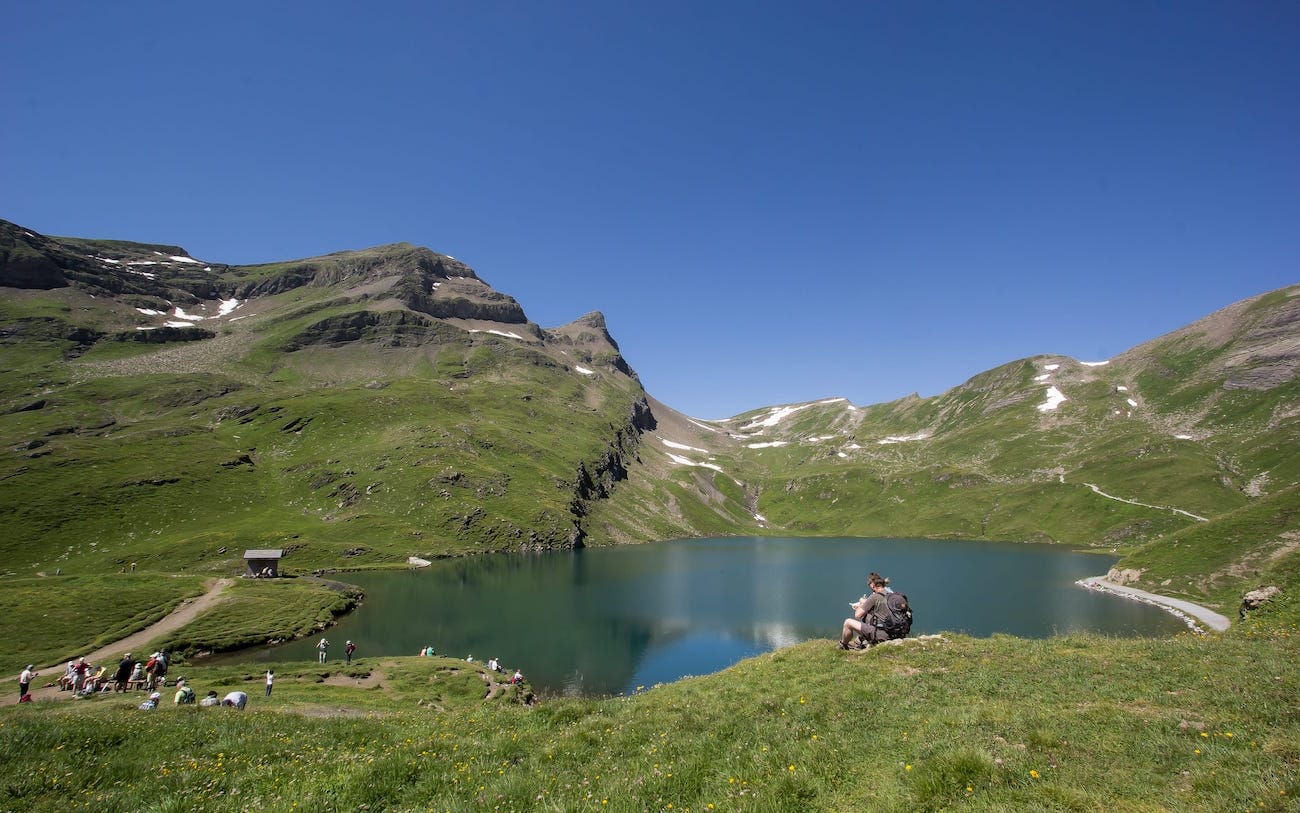 15 Aug

7 Wonderful Alpine Lakes in Switzerland You Can Easily Reach

It's hard to imagine anything more charming than small alpine lakes, with their pristine water whose colors range from dark blue to emerald green or turquoise.

Whenever I go hiking in Switzerland, and I do all I can to make that happen as often as possible, I'm always on the look for some new mountain lake, and I don't mind taking a longer route to discover another lovely spot.

I saw quite a few over the last few years, and there are so many others where I still have to walk to, but for now, here are my suggestion for
Beautiful alpine lakes in Switzerland you shouldn't miss.
Lake Oeschinen (Berner Oberland)
When I spotted Lake Oeschinen from the hiking trail, I felt in complete awe. First, my sight rested on the calm water mirror colored with shades of emerald green, turquoise and deep blue. Then, my eyes wandered around, to the bright green meadows, the darker patches of forest, the steep mountains circling the lake and the snow capped peaks. It was one of the most beautiful mountain lakes I'd ever seen, and it brought my memory back to the time I went hiking in the Cordillera Blanca, in Peru, to the stunning Laguna Churup.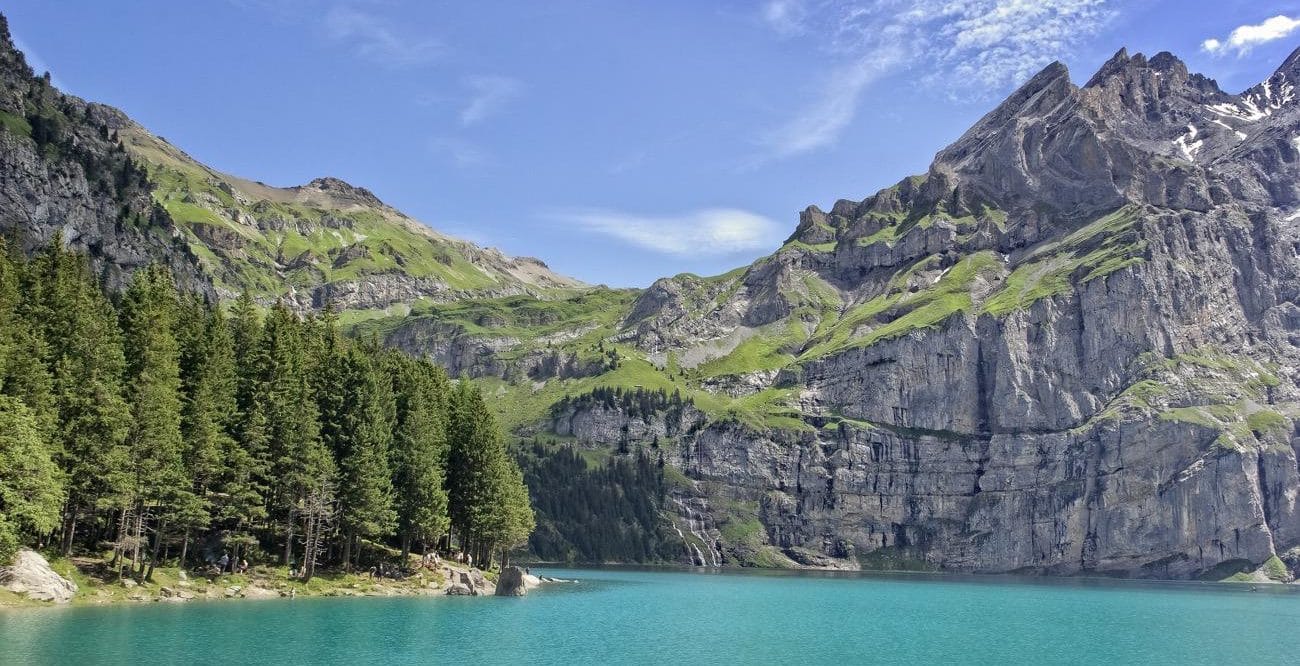 From Oeschinen Lake you can hike up to the Bluemlisalphutte (a strenuous 5 hours walk up to 2840 mt/ 9320 ft), but the lake is also easy accessible with a short (30-40 min) walk from the cable car climbing up from Kadersteg.
I love sitting in the grass and having a picnic, but  there is also a restaurant (expensive, like everything in Switzerland), with a terrace overlooking the lake. Even if you're not much into hiking, have at least a walk around the lake (the entire circular hike takes about 3 hours, but you can also walk only part of it, and then go back the same way), to admire the scenery from different perspective.
Bachalpsee (Berner Oberland, Jungfrau region)
The Jungfrau region and the area around Grindelwald are between the most beautiful (and famous) in Switzerland. Despite its beauty, most tourists (Chinese mainly, who apparently love visiting) spend very little time here, usually overnighting in Interlaken and taking the scenic Jungfrau Bahn to reach the top and enjoy the stunning view of the Aletsch Glacier.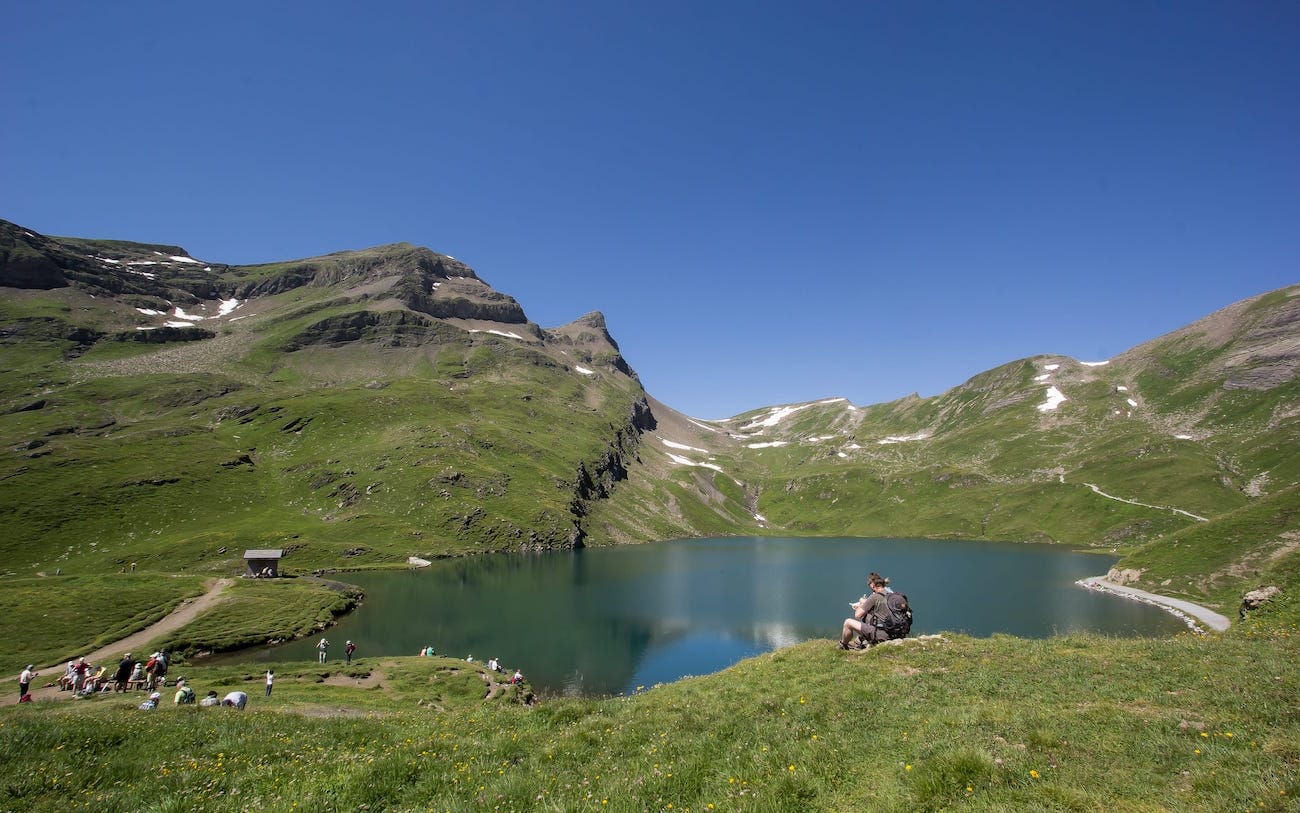 The truth is that this region is a treat for hiking lovers and offers so many superb views of the snow capped mountains (especially Eiger, Jungfrau, and Mönch), that you could easily stay weeks.
To admire the lovely Bachalpsee you need to hike, but it's an easy walk on a gentle ascent and only about 1 hour from atop the Grindelwald First gondola. The scenery is idyllic, and you won't regret having done a little exercise to spot one of the loveliest alpine lakes in Switzerland.
Arnensee (Berner Oberland)
Although it's only 123 km (123 mi) from Gstaad, one of the poshest mountain resorts in the world along the scenic Montreux-Oberland Bernois railway, only a few tourists head to Arnensee.
The idyllic Lake Arnen (called Lac Arnaud in French), is a well-known spot for locals living in the Saanenland who like going there to swim, hike, bike, or simply to chill-out.
You need a car to reach the lake, since the closest bus stop is in Feutersoey, from where a 1 1/2 – 2 hours easy hike (one way) leads you to the lake. You can also walk all around Arnensee, looking at the surrounding landscape from different perspectives.
Related Read: Hiking Through the Meadows to Lake Arnensee
Lake Lauenen (Berner Oberland)
The little Lake Lauenen is another delightful alpine mountain lake in the Saanenland.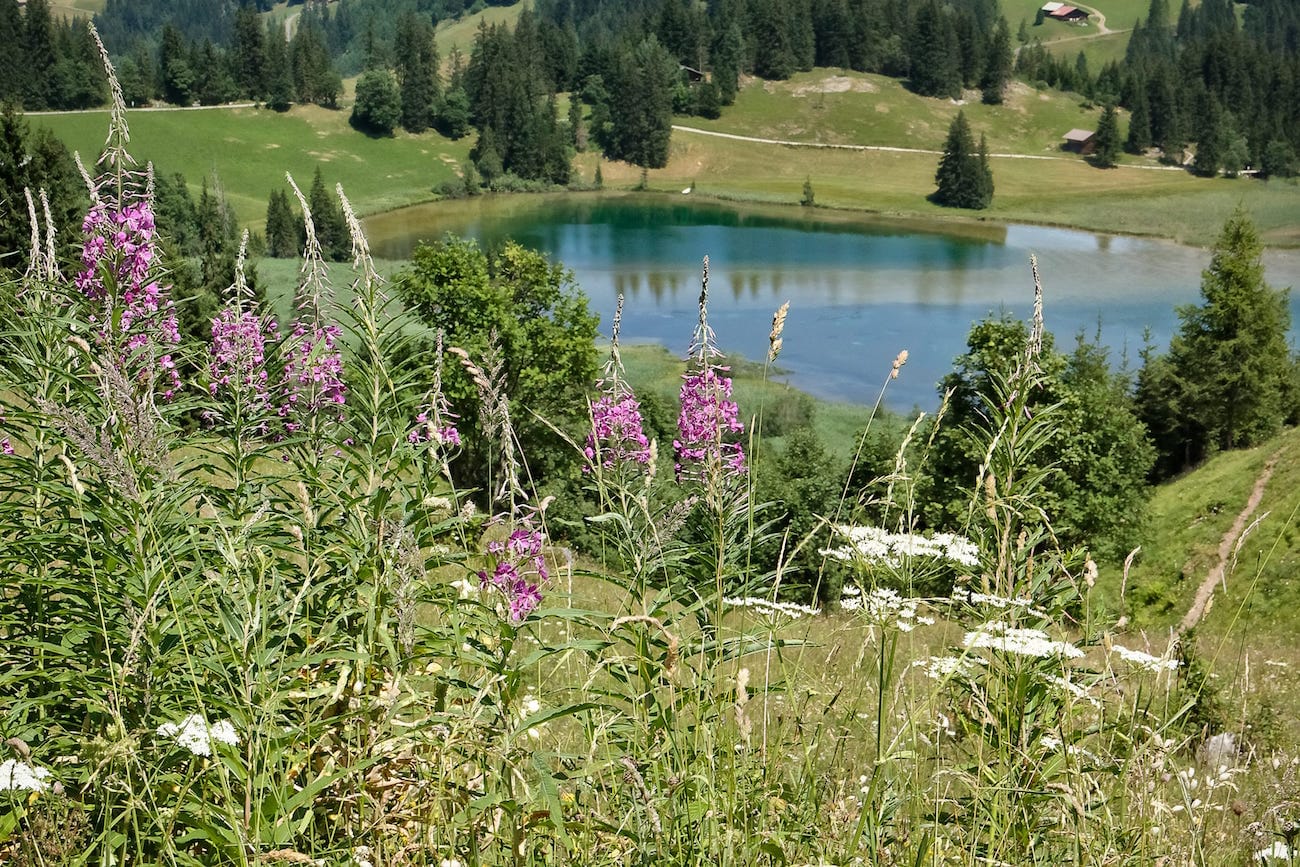 You can get there by car and by Post bus, but I highly recommend hiking from atop the Wispile. The hiking path starts at the arrival of the cable car and offers beautiful views of the pre-alps and the lush green pastures. It takes about 4 hours to reach the Lauenensee from Höhi Wispile, and once you get there, have your swimsuit ready for a plunge into the refreshing water.
Related Read: Wispile to Lauenensee: The Best Hike in Gstaad?
Lac Bleu (Arolla, Valais)
Another enchanting alpine lake in the Valais canton. The hike from Arolla is easy and not very long (about 1 11/2 hours), and the views over the Val d'Hérens are magnificent.
Once you reach the lake, you might wonder why it is named Lac Bleu (Blue Lake), because the shades are more emerald green and turquoise, some of the most beautiful colors I happened to see in mountain lakes.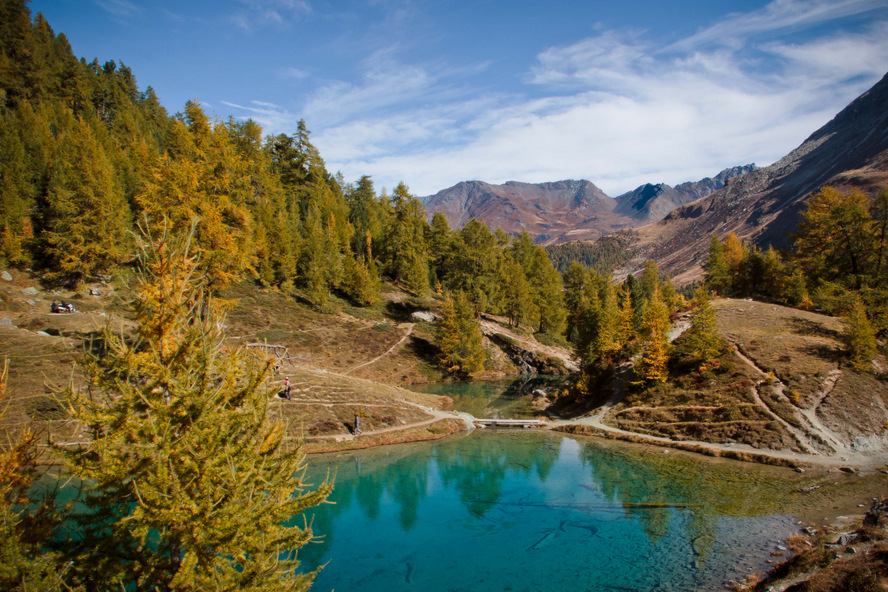 If you decide to venture into that lesser known area of Switzerland, donate miss to visit Evolène, a wonderful little town with tradition old timber houses, the wood darkened by the sun, embellished by lovely flowers and other decorations.
Related Read: Evolène, Charming Old Houses and Traditional Swiss Life
Riffelsee in Zermatt (Valais)
It's hard to imagine a more perfect view than seeing one of the most awe-inspiring mountains – the pyramid-shaped Matterhorn – reflecting in a little mountain lake.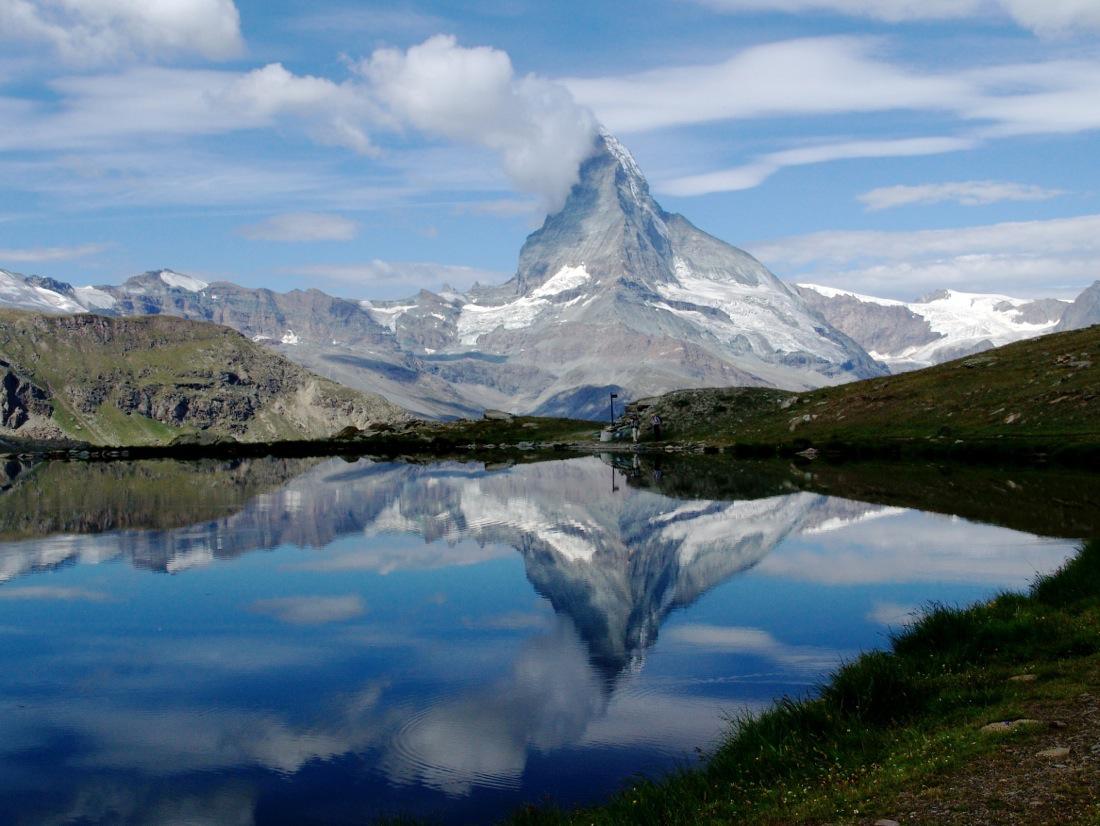 The access to Riffelsee is straightforward. Take the Gornergrat Bahn cog railway and on the way up or down, go off at the Rotenboden station from where you can reach the lake with a very short and easy walk. Get your camera ready to capture a picture perfect spot.
Seealpsee (Appenzell)
Often overlooked by foreign tourists, the Alpstein mountain range in Appenzell boasts superb sceneries and many hiking and mountain biking options for the outdoors lovers.
On sunny days, a favorite spot for locals is the lovely Seaalpsee. You have to walk to get there, though. The easiest access is via the paved road from Wasserstein, which takes about 50-60 minutes each way. For those looking for a longer hike, there's a rather steep but beautiful downhill trail from Ebenalp cable car down to Seealpsee, for which you should count about 2 hours.
Travel addict and passionate about photography, Simon Falvo started Wild About Travel back in 2009. Leveraging her strong PR background, she developed an extensive knowledge of Digital Communications and Social Media Marketing. Besides travel writing SImon holds workshops and trainings, she collaborated with tourism boards for digital marketing campaigns and participated as a speaker at several events.