Perhaps no place like the Salvador Dali House Museum in Port Lligat summarizes this iconic artist. Like a mirror, the Museum is eccentric, ironic, and provocative.
Eccentric, highly imaginative, ironic, egomaniac, excessive, provocative… So many adjectives have been applied to Salvador Dali's multi-faceted personality, and none can properly define him because Dali is all of them altogether and much more.
There is only one difference between a madman and me. I am not mad. – Salvador Dali
There's no better way to understand Dalì's long and prolific artistic career than a journey to Costa Brava, the land where he was born and where he mostly lived, the land that is so often represented in his paintings.
Dalì and Port Lligat
Salvador Dalì moved to Port Lligat, a charming fishing village, in 1930. He bought a tiny fisherman's hut in poor conditions and, a few months later, purchased a second nearby cabin. In the following years, the house underwent significant refurbishing according to Dalì's needs and taste. In 1936, when the Civil War broke out in Spain, Salvador Dalì and his wife Gala moved to the United States, where they lived until 1948.
Back in Port Lligat, Dalì bought a third hut and continued the remodeling of the spaces and the olive grove until the early 1970s. He lived in Port Lligat until Gala's death in 1982, after which he moved to the Castle of Pubòl, which was converted into the Gala Dalí Castle House-Museum in 1996.
The journey in the footsteps of Salvador Dali starts in Port Lligat, the charming fishing village where the artist alternatively lived from 1930 to 1984, attracted by the landscape, light, and isolation.
Built little by little over a period of 40 years, the house – now converted into a Museum – is a labyrinth leading visitors through a discovery of Surrealism and of one of its leading figures.
Irregular rooms, narrow corridors and everywhere the objects collected by Dali displayed among his works of art and the furniture designed by the artist. The Casa Museo Dali is no doubt eccentric, sometimes utterly kitsch but very intriguing. Most importantly, since there was a complete identification between Dali and his home, getting through it is like having a journey into the artist creative process and the wide array of his intellectual interests.
Salvador Dali is closely related to my youth when I was a student at high-school. At that time, I was strongly attracted by Surrealism, how the movement broke with the past and developed around Sigmund Freud psychoanalytic theories and therapy.
I spent the years as a University student traveling throughout Europe and visiting museums, mostly to see the works by the main Surrealist painters. When I first traveled to Costa Brava in the late 1980s the Salvador Dali Museum House didn't exist (it opened in 1997), thus I was curious and excited.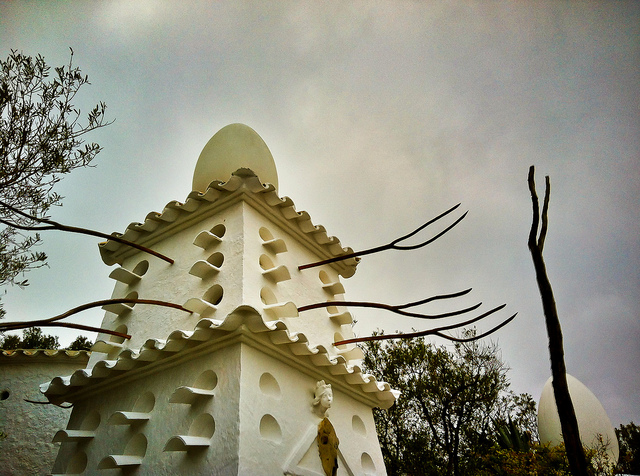 The Museum has become so popular (and the spaces inside the house are so tiny) that visits can enter only by small groups, at regular intervals of 15 minutes, meaning that it's, unfortunately, impossible to linger when there are so many details to look at.
Still, the eccentric and eclectic nature of Dali and his wife Gala is palpable at a glance, starting from the 'Bear Hall', where a huge stuffed bear welcomes the visitors and reminds them of how jealous the artist and his wife were of their privacy.
Every room has a unique decor and tells something about Dalì's life, intellectual interests, superstitions, and oddity. Whether you like him or not, the Museum is fascinating.
And then, there is the scenery. Despite the spread of tourism, Port Lligat still holds its charm. I look around and understand why Dali was mesmerized by the little bay, the rocks sculpted by the wind and the surrounding melancholy appearing so often as a background in his most famous paintings.
Useful Information:
House Museum Dalì, Port Lligat
Visits only by to small groups (up to 8 people) at intervals of 10-15 minutes. Advance booking must be done either online, by phone +34 972 25 10 15 or via e-mail to [email protected]
_______
Note: Warm thanks to the Costa Brava Pirineu de Girona Tourism Board for inviting me to discover this beautiful area of Spain. While I enjoyed the wonderful hospitality, the opinions expressed are exclusively mine.